The Benefits of Refrigerated Warehouse
The Benefits of Refrigerated Warehouse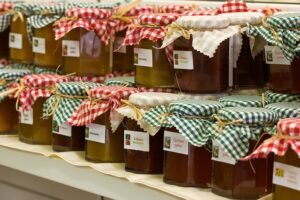 Do you have products that need to stay at a specific cold temperature? Sometimes the slightest temperature increase can affect the quality of your product. Whether your merchandise includes medicine that needs to remain at a particular temperature or food that has to stay chilled, finding the right storage option can ensure it doesn't spoil, which could otherwise cost you money.
You need a temperature control storage warehouse to preserve the integrity of your products. Cold storage will allow you to keep your merchandise fresh until it's ready to be distributed. It's a load off your mind when you don't have to worry about whether your product will stay safe before it's transported to the next location. Here are a few significant benefits of finding a refrigerated warehouse for lease.
Refrigerated Storage Warehousing Eliminates Waste
Storing your product at the correct temperature leads to less waste. When you don't have cold storage, your products can go bad — even a gap of a few hours can lead to spoilage, which would result in you having to throw away any damaged or unusable products.
Instead, choose refrigerated storage warehousing from Mitchell'sNY for a solution you can trust. We'll ensure your goods stay within the right temperature range for optimal quality. You'll save money by cutting down on product loss, and you can even protect the environment by avoiding unnecessary waste.
A Cold Storage Warehouse for Lease Saves You Money
Increasing your profits is one of the most critical reasons to take advantage of a temperature control storage warehouse. You lose money when you're unable to use your merchandise for its intended purpose, but when you work with us, we'll maintain the perfect temperature at all times. 
As soon as your product reaches us, we'll leap into action to get it stored under the proper conditions. Your merchandise won't be left sitting on a dock, warming up and potentially going bad.
Our Cold Storage Is Adjustable
Each one of our clients has different needs, which is why we rely on state-of-the-art technology to adjust temperatures and meet those details. Whether you have inspection requirements, same-day deliveries or another set of specifications, we can work with you on anything — just ask.
Use Mitchell'sNY Logistics for Your Cold Storage Needs
Do you have other unique needs for your cold storage? We tailor our services to our customers. Even if you need something you don't see on our site, reach out to us to see what we can do for you. We'll provide a custom quote based on the assistance you seek. We know every customer is different and has specific needs, and we aim to meet them all.
Another thing that sets us apart is that we truly know our customers. Many call our office to speak with someone by name because we've worked with them for so long. Getting in touch with us is simple and doesn't require answering a bunch of prompts. You can call us directly and get service from a person who knows your name and will address your concerns quickly. We love providing this personalized care for all our cold storage customers.
Protect your product by using cold storage warehousing from Mitchell'sNY. Contact us today to see how we can assist you.