For decades, Mitchell'sNY Logistics has been fulfilling the needs of our customers located all throughout NYC and the Tri-State area. One of the ways that we help streamline their needs is through our NYC 3rd party logistics services.
Instead of choosing a larger provider, we offer our customers the benefit of working directly with a New York logistics company that is intimately acquainted with the local area and its needs. This local knowledge, coupled with our on-time performance, can help your business reach its goals.
Plus, with our willingness to personally work with companies of all sizes and our dedication to continuing our reputation for excellence, you can be confident in your choice of choosing Mitchell'sNY Logistics for all your logistics needs.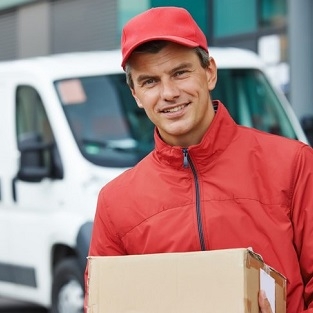 With all of our 3rd party logistics services, we are pleased to offer you the following benefits:
Daily email updates: With our daily email updates, you will be able to both monitor and benchmark different services. This includes important areas like vendor management services.
On-time performance ratios: We are dedicated to delivering the best ratios. Best of all, we are reliable — so you can always expect it on-time.
Quality customer service: If you have any questions or needs, we are here for you. Every time you call, you will get to speak directly to a New Yorker instead of electronic messages or recordings.
We offer our customers three main types of logistics services:
1. Messenger
As one of the most efficient logistics companies in NYC, our messengers take hundreds of original documents and packages throughout NYC. Our messengers ensure your mission-critical packages are delivered that same day. And because the package is delivered by hand, you don't have to worry about it being delayed like you might risk when using vehicle delivery.
2. Courier
For small packages that you need delivered to either Manhattan or the outer boroughs, we offer courier services. Our bike couriers, which are a tradition in the city, can easily handle your packages that weigh less than 10 pounds and are smaller than 36". It will be delivered efficiently and securely by a courier who knows NYC.
3. Warehouse
Our warehouse and shipping facility, situated in Long Island City, features 45,000 square feet of storage space and has no size restrictions. We can assist your business with everything from receiving to packing to delivering. You will also be able to utilize our state-of-the-art technology. Our warehousing services also work with your needs by offering the benefit of flexibility and scalability.
Request a Quote From Mitchell'sNY Logistics
With Mitchell'sNY Logistics, you can count on us to help your business succeed and grow. You will get to experience firsthand the power of local knowledge and a personal touch.
So, if you are interested in having one of the best Manhattan logistics companies handle all your business needs, then reach out to Mitchell'sNY Logistics to request a free quote. We look forward to the opportunity to partner with you and serve your business through customized logistics solutions.