Same-Day Courier Delivery
Same-Day Courier Delivery in NYC
Whether you're a long-time local or new to the Big Apple, chances are it didn't take you long to figure out that getting around our busy neighborhoods is often best accomplished by foot, bike or mass transit. When you need same-day package delivery in Manhattan or the outer boroughs, get in touch with Mitchell'sNY. As the courier and van delivery service that's served New York City for 71 years, Mitchell'sNY Logistics is made up of experienced logistics professionals who deliver the knowledge and speed you need to get the job done right.
Our Manhattan Logistics company brings practical, on-the-ground expertise to every package pickup. You'll find that our couriers know New York better than any out-of-town dedicated delivery company possibly could. We know NYC because we are from NYC. When documents or small packages need to get where they're going quickly and securely, you can count on Mitchell'sNY Logistics.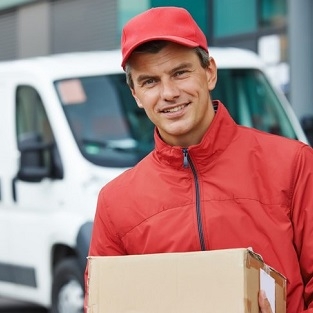 When Only Originals Will Do, Call NYC's Best Parcel Delivery and Courier Service
Mitchell'sNY Logistics moves at the same speed as your business. When only original documents will do — or your small parcels needs near-instant delivery — contact us. Mitchell'sNY Logistics couriers navigate New York City's streets and transit systems with the expertise that only local knowledge allows. That means you can move mission-critical documents and packages faster and more securely.
Local businesses of all sizes and types count on us to provide expert same-day delivery in New York City. Our same-day delivery couriers in NYC deliver over 750 parcels and packages every single day. We can deliver your important package by hand with a standard delivery time of two hours. If you need even faster delivery, call us and ask about pricing for our rush service. We can deliver parcels and small packages in rush times of one hour.
Whether you need mission-critical document delivery for your business or you're interested in scheduling regular home delivery of your favorite hometown newspaper, Mitchell'sNY Logistics will treat your package with the care and respect you want. We offer same-day courier service by hand or via motor delivery within Manhattan and the outer boroughs. Our experienced couriers offer standard and rush delivery options.
Messenger delivery: Traffic congestion and roadwork mean experienced New Yorkers turn to mass transit, bikes, and good old-fashioned walking to get where they need to go quickly. When you need fast delivery for your parcel or package weighing less than 10 pounds and sized smaller than 36", get in touch. Our same-day courier service offers fast delivery within Manhattan and the outer boroughs that meet your needs for urgency. We provide standard courier delivery within two hours and rush delivery within one hour. Contact us for custom pricing and to choose the service that best meets your needs.
Motor delivery: If you have an urgent same-day delivery request that exceeds the size requirements for our courier service, give us a call and ask about motor delivery. We provide same-day delivery of large packages in Manhattan and the outer boroughs. For Manhattan deliveries, we can bring your package to its destination by motor delivery within two hours. For trips outside Manhattan but within the Bronx, Queens, Brooklyn or Staten Island, contact us at to speak to a team member about rates and estimated delivery times.
Personal Customer Service
At Mitchell'sNY, we know how frustrating it is to call a delivery company for fast service and then get stuck in an endless loop of electronic prompts. Get in touch with us, and a live New Yorker will answer your call promptly. Our experienced logistics professionals will give you the excellent customer service and thorough local knowledge you need to get your packages and parcels delivered efficiently.
In addition to fast courier delivery and unparalleled local know-how, Mitchell'sNY also provides warehousing and logistics support, facilities management, nationwide delivery of large or bulky packages, moving services and other flexible solutions for your business or personal needs. Let us help you streamline operations and manage overhead with the expert logistics and delivery services that only Mitchell'sNY can provide.
Call Mitchell'sNY Now for a Free Quote
Mitchell'sNY logistics knows delivery in NYC. Moving documents and packages doesn't have to be stressful. And when your business or personal life needs experienced, efficient and secure delivery, we're ready to make your day easier.