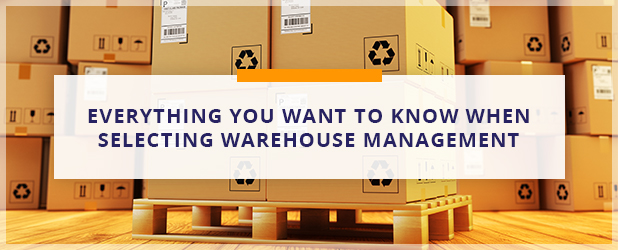 What comes to mind when you think about warehouse management? If you've just established your business, you may not have given it much thought yet, but it's never too early to start thinking about how you'll handle the goods you'll sell. This is true even if you haven't received your first order yet.
If you've operated your own business for a while, you already know that the point of warehouse management is to move and store materials within your warehouse. Depending on the industry you're in, your approach to warehouse management may be a basic system, largely dependent on spreadsheets and manual tracking, or it may be more complex and involve advanced technology.
Over time, warehouse management systems have been developed to help companies manage their inventory of products. Material requirements planning systems, or MRPs, help manufacturers manage their raw material needs. This technology eventually evolved into MRPII, or manufacturing resource planning, which added scheduling and capacity planning functions. Enterprise resource planning systems, otherwise known as ERPs, represent the next generation of warehouse management tools. ERP systems have all of the capabilities that MRPII systems have, but they also have financial reporting and customer/vendor management abilities.
Many of today's sophisticated warehouse management systems (WMS) are ERP systems designed specifically for warehouses. Traditionally, companies use an electronic warehouse management system to track products from their delivery to the business until their eventual shipping. A WMS would be able to tell you where every product in your inventory is located in your warehouse in real-time, as it's received, stored, picked, packaged and shipped. A conventional WMS is designed to track the items that make up your inventory exclusively. As a result, these systems require support for the other things related to inventory management to be completed, such as billing, customer service and accounting.
Modern warehouse management systems have the capabilities of a traditional WHS, but they can do a lot more that "just" track the products in your inventory. Instead of being standalone systems, today's warehouse management systems operate like ERP systems. This means they integrate the work performed to keep your warehouse running across departments. A modern WMS coordinates activities in your accounting, purchasing, sales, customer service, shipping, payroll and inventory departments, which enables you to run your operation more efficiently and reduces the chances for mistakes across the board.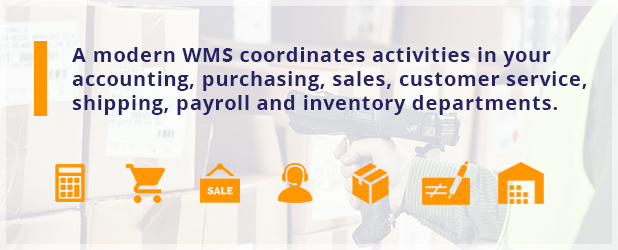 What is Third-Party Warehousing?
While tools such as warehouse management systems exist to enable business owners to manage their inventory and overall operation efficiently, it doesn't mean managing your own inventory of goods is necessarily the best use of your time as an entrepreneur. This is particularly true at times when you need to focus on product development, sales, and marketing, such as when your business is new, your sales are growing rapidly, or you're expanding into a new geographic area.
Fortunately, there are companies that specialize in third-party warehousing. A third-party warehousing company will store your inventory for you. In addition, many of these companies offer other value-added services such as order fulfillment, inventory management, custom labeling and shipping.
Third party warehousing is often referred to as "third-party logistics," or 3PL, even though 3PL often involves more than warehousing services. In 2014, the worldwide third-party logistics industry recorded $750 billion in revenue, with 3PL companies in the United States alone posting $157 billion in revenue in the same year. From 2013 to 2014, the demand for 3PL services in the United States grew 7.4 percent, outpacing the growth rate of the nation's economy. In 2014, 96 Fortune 100 companies and 80 percent of the companies in the Fortune 500 reported using 3PL services.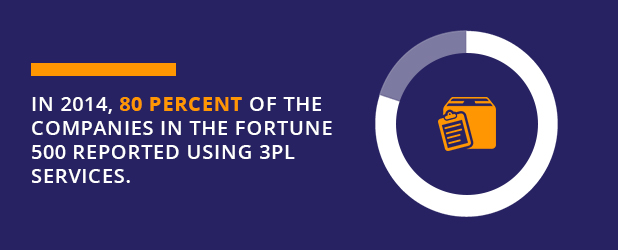 Although the vast majority of Fortune 100 and Fortune 500 companies have decided that employing some form of third-party logistics makes sense for their purposes, deciding whether you should make third party warehousing a part of your business depends on a variety of factors, including your budget. If you don't have sufficient cash flow to pay for third party warehousing, it makes sense for you to manage your warehousing and order fulfillment in-house. If your products require custom packaging, you may also want to handle your logistics yourself.
Even though handling your business' warehousing needs in-house often provides some unique packaging options and cost savings, it has its drawbacks. Arguably, the biggest drawback to managing your own logistics the time and attention it takes away from the things you could be doing to grow your business.
Benefits of Third Party Warehousing
While saving time is an obvious benefit of using a third-party warehousing company to manage your logistics, third party warehousing provides many other advantages. These additional benefits include:
Flexibility:
Depending on the size of your current business location, you may have to sign a long-term lease to house your inventory of products. Even if you find a commercial space that can hold your current inventory, how do you know that space will be big enough to accommodate an increased volume of materials as your business grows? Is your business cyclical? If so, you may be paying for empty space during your slower sales periods when you lease a warehouse. If you sign a lease, you have to continue to pay for the space you lease until the end of your contract's term, regardless of whether you've outgrown your space or it's close to empty at certain points of the year.
When you work with a third-party warehousing company, you don't have to sign a lease for a location that might become unsuitable over time. Instead, many 3PLs offer flexible pricing, which means they will only charge you for the warehouse space you are currently using. During slow periods, when your products take up less space, you'll pay less than you would during periods when you need to have more of your goods available.
Less Staff:
In order to manage your own warehouse and order fulfillment, you'll typically need to hire staff members to help. You'll need to invest time and money in training them. You'll also need to pay payroll taxes and, depending on the size of your operation and other factors, provide benefits such as health insurance.
You can avoid these upfront and ongoing expenses when you hire a third-party warehousing company. When you work with a 3PL provider, it will be the third party's responsibility to hire, train and pay the people necessary to satisfy your warehousing needs.
Increased Focus:
Unless you've established a warehousing or shipping business, the odds are good that your primary business skill isn't packing boxes with goods and shipping them. You may excel at marketing, advertising, sales or another business function instead. When you hire a third-party warehousing company, it enables you to focus on your core competencies and growing your business instead of logistics.
Reduced Expenses:
Allowing a 3PL provider to manage your logistics not only saves you money on labor and payroll taxes, it can also reduce your shipping expenses. In general, third-party warehousing companies combine the amount of goods they ship for you with the volume of products they ship for other companies. They then leverage the total to secure shipping rates that are typically lower than what you'd be able to negotiate on your own.
What to Look for in a Third-Party Warehousing Partner
If you've decided that using a 3PL provider is the right move for your business, you'll need to know how you should pick the right third-party warehousing company. The first step in selecting the appropriate company is to understand that you are doing more than outsourcing work when you hire a 3PL provider. When you work with a third-party warehousing company, you are hiring a partner that will be responsible for critical components of your business.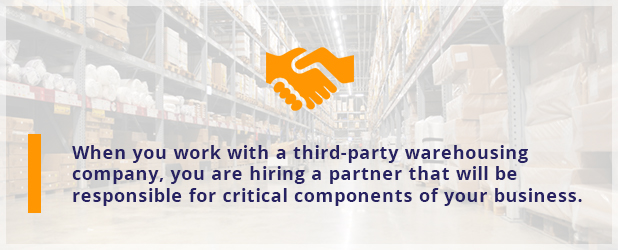 Even if you make the best products and conduct an effective advertising campaign that multiplies your sales volume, it won't matter if your 3PL provider can't execute the tasks required to get your goods to consumers on time and intact. With this in mind, selecting the right provider is critical to your business' success in both the short- and long-term.
While recognizing that the 3PL company you choose will be a strategic partner in the success of your business is the first step toward making the right choice, it isn't the only thing you need to do. With a third-party warehousing company potentially being responsible for up to 60 percent of your supply chain costs, it's important that you invest the resources necessary to do a few other things as well.
In order to make the right decision, you should consider doing the following:
Do Some Due Diligence:
You should research at least three 3PL providers if you're looking to hire a third-party warehousing company for the first time or you're thinking of switching to a new partner. You can start by identifying 3PLs that have experience with managing logistics in your industry and working with businesses that are similar to yours. By picking a 3PL that has experience with similar businesses in your industry, you're aligning yourself to work with a partner that can provide insights that you can use to grow your business because your partner is already familiar with your industry and some of the business practices that have helped others succeed.
Once you've selected prospects to be your 3PL provider, you should contact some of the businesses they currently
work with to ask them about the relationship they have with their chosen third-party warehousing company. Inquire about whether their provider consistently delivers on its promises and if the 3PL conducts business in a timely manner. Ask about the 3PL's response time when a client has a question or concerns, and if the provider has helped the client increase sales and reduce returns and customer complaints. You should also ask about the kind of data the 3PL provides for a client's review, how current the information is and how quickly they share the data.
You should take some time to talk to some of the third-party warehousing company's former clients as well. Learning why they chose to terminate their relationships with the company can help guide you toward making the appropriate final decision for your business.
Investigate Scalability:
In order to select the right strategic partner, you'll need to figure out if a 3PL's services are scalable. While most entrepreneurs are constantly laboring to grow their business, you'll still face ups and downs in demand for your product, no matter how hard you work. If your business sells Halloween decorations exclusively, for instance, the odds are good that your warehousing needs will decrease beginning in November every year. With this in mind, you need to make sure the 3PL provider you choose will be able to scale down quickly as necessary.
If demand for your product ebbs and flows, the third-party warehousing company you select needs to be able to handle sudden increases in demand for your products without disrupting your supply chain. This is an instance in which working with a 3PL that's already familiar with the nuances of your industry can be particularly helpful.
As a general rule, you should look for a third-party warehousing company that has clients that are both bigger and smaller than your company. If a 3PL provider has clients that are larger and smaller than your business, it's a good indication that the provider's operations are readily scalable.
Review Available Options:
You need to consider the types of shipping and warehousing options that will be available to you when you're choosing a third-party warehousing company. The more options a 3PL offers, the more likely it will be that you'll find an arrangement that is the most affordable option for your business.
Evaluate Financial Stability:
During your decision-making process, you should also evaluate the financial stability of the 3PLs you're thinking about working with. If a third-party warehousing company goes out of business, it can have devastating effects on its clients because their own operations will come to a halt at the same time the 3PL closes its doors. For this reason, it's vital that you choose a third-party warehousing company that has the resources to continue operating even when the economy is struggling and business is slow.
Look Beyond Price:
While the amount you will pay to establish and maintain a relationship with a logistics company is important, it's vital that you look beyond price when you're selecting your strategic partner. You should consider the value-added services the company provides, the options they make available and how customizable the company's services are. You should also think about how the company will address any questions or concerns you have.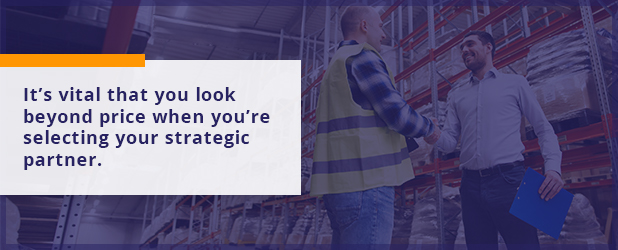 Will you have a dedicated account manager or will you have to navigate your way through an automated menu to get in touch with someone who may not even be familiar with, let alone knowledgeable about, the issue you need to have resolved? Will you receive personalized service even when it's time to scale down your warehousing and shipping needs during a slow period? What hours during the day and night will someone be available to handle a problem if one arises?
How a 3PL provider responds to these questions and other inquiries that involve the working relationship you're going to have with a third-party warehousing company are just as important, if not more important, than price when you're selecting a company that is going to be a trusted strategic partner.
Why Choose Mitchell'sNY for Your Warehouse Management Needs
Founded nearly 70 years ago, Mitchell'sNY is a family-owned and operated business dedicated to meeting the needs of its clients located in New York City and the tri-state area. For more than 50 years, Mitchell'sNY Logistics has been a valued part of Mitchell'sNY. Mitchell'sNY Logistics has provided courier, shipping and delivery services to clients located in the five boroughs and beyond for decades. Because our drivers and messengers know the area so well, we have an unrivaled record of on-time performance.
We tailor our personalized services to suit your needs. Our menu of services includes:
We have a dedicated team of highly trained professionals who are ready to do whatever is necessary for your business to grow and be a success. At Mitchell'sNY Logistics, satisfying the needs of our clients is always our top concern. If you're looking for a logistics company that truly understands what it means to be a partner, your search is over. Contact Mitchell'sNY Logistics to learn more about what our talented team can do for your business today.