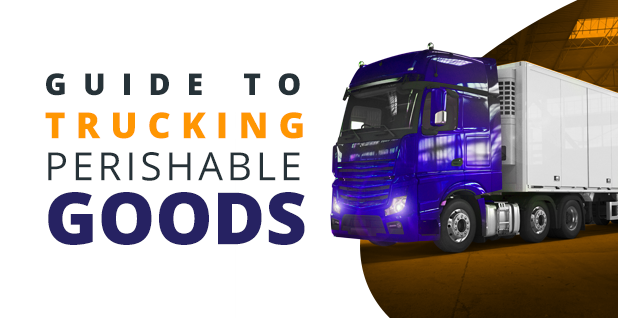 Whether you are shipping produce, floral arrangements or pharmaceuticals, maintaining a cold chain from production to delivery is essential. If the temperature is not adequately controlled at all stages of production, your perishable goods could spoil or even make your customers sick. But for a small company, delivering perishable goods safely can be an intimidating task. You want to make sure your products arrive fresh and safe for consumption, but you may not know much about logistics management or shipping regulations.
Depending on the size of your business and the goods you need to deliver, you may opt to ship your perishable goods in the mail or use a reefer truck for ground deliveries. No matter which method you choose, you must comply with federal regulations and maintain best practices for delivering perishable goods. Use this guide to perishable goods shipping to find the best delivery method for your business.
How Do I Ship Perishable Food and Goods?
For companies sending smaller deliveries directly to customers, shipping perishable goods in the mail may be the best option. Shipping cold or frozen products in the mail requires proper planning and care to make sure everything arrives safely to your customers. Follow these step-by-step instructions on how to ship perishable goods.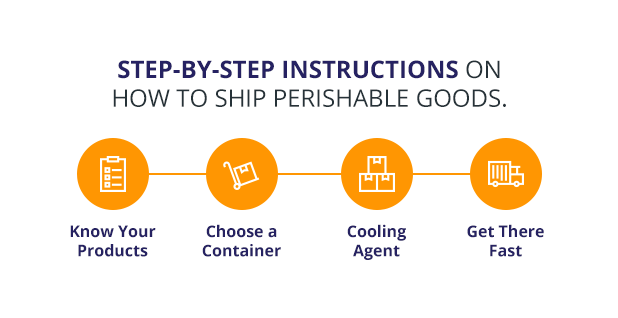 1. Know Your Products
Before you begin shipping goods, make sure you know the temperature at which you must keep each product, so it stays fresh. You should know the shelf life of each product to determine how quickly it will need to be shipped. These factors will help you decide which type of packaging is best for your products.
2. Choose a Container
A variety of shipping containers are available for shipping perishable goods. These special packages provide insulation to keep out heat. You can purchase styrofoam boxes with thicker or thinner walls to keep out more or less heat, and they're generally the most effective at maintaining temperatures. Typically, Styrofoam boxes are shipped inside of cardboard boxes for better durability during transport.
You can also purchase Styrofoam sheets, insulated liners or insulated pads to place inside of a cardboard box. Sheets and pads are often more cost-efficient than Styrofoam boxes, as you can purchase them in bulk and cut them to the right size for each package. You can also wrap insulated liners around your product for extra protection.
3. Select a Cooling Agent
Once your product is packaged, you will need to add a cooling agent to keep your product cold during shipping. Ice packs are typically a good option for refrigerated goods, while dry ice is best for frozen products. Dry ice is considered a hazardous material, so you'll need to clearly label any of your packages containing dry ice and should check for additional requirements from your shipping provider.
When determining how much dry ice or how many ice packs to use, consider the size of the product, what temperature you need to maintain, how long it will be in transit and the climate of the area it's shipping to. Shipping trucks can reach very high heats in the summer, so be sure to take this into account when adding your cooling agent.
4. Get It There Fast
Choose a shipping partner that can provide guaranteed shipping times, so you know your product will be delivered on time. You should also balance speed with cost, as overnight or one-day shipping can be very expensive. If you want to provide a reasonable shipping fee for your customers, choose the longest shipping time that will still keep your product fresh and safe.
Challenges of Shipping Perishable Goods in the Mail
The cost to ship frozen food can be expensive, as you will need to send it quickly and ensure that proper temperatures are maintained. Ice packs and dry ice also take up extra space, meaning you may need to use larger shipping containers, which can add additional cost.
Aim to use the smallest possible container for your product and choose the longest shipping time that will still keep your product safe. No matter what shipping method you select, make sure to have your shipping policies readily available on your company's website so customers can understand the associated costs.
Perishable Goods Delivery With Reefer Trucks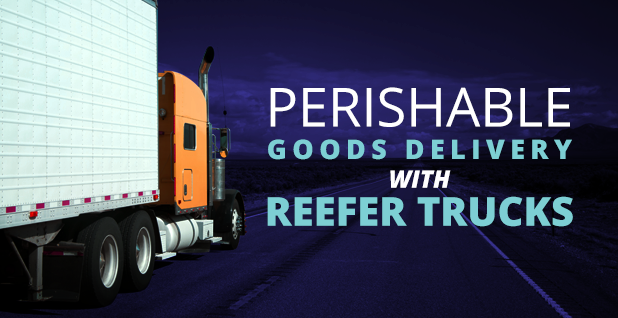 When transporting large quantities of perishable goods, a reefer truck may be the best option. Reefer trucks have internal cooling systems that can maintain a specific temperature inside the trailer. These trucks can be set at a range of temperatures from freezing to room temperature.
Reefer trucks were invented in the 1930s as a solution to the problem of transporting cold and frozen goods safely. Manufacturers and producers wrestled with this question for decades, employing the first attempt at a cold shipment method on trains in the mid-19th century. Railroad companies filled train cars with large blocks of ice in an effort to keep products cold as they traveled across the country.
After the invention of automobiles, drivers carried this method over to trucks and also used insulation to keep out heat. Fans in the vehicles also helped to move cold air around the container. This method was not sufficient, however, because drivers would still have to stop periodically to refresh the ice.
In the 1930s, inventor Fred Jones created a portable cooling unit that relied on the truck's motor for power, and drivers could add it to the outside of shipping containers. These first refrigerated trucks allowed critical perishable items — such as food, blood and medicine — to be shipped to soldiers during WWII.
Refrigeration technology for transporting goods has continued to develop, and reefer trucks are now available with a wide variety of capabilities. Modern refrigerated trucks are powered by diesel and can be adjusted to exact temperature specifications. For smaller shipping needs, refrigerated vans are also available.
In many reefer trucks, internal technology allows drivers to continuously monitor the temperature inside the truck to ensure products are stored properly during the entire shipping process. If temperature monitoring is not already built into a reefer truck, additional devices must be used for accurate temperature maintenance and recording.
When to Use a Cold or Frozen Truck
Using a reefer truck can be an affordable, efficient way to transport perishable goods. Reefer trucks are valued for their ability to control both temperature and humidity, making them perfect for ensuring freshness of a variety of products.
Frozen food shipping companies use reefer trucks to keep products frozen during transport, while fresh produce is shipped in refrigerated trucks so it does not spoil or become contaminated. While cold and frozen trucks are most often used in the food and beverage industry, they have many applications in other industries, as well.
Below are examples of perishable goods that many companies often transport using reefer trucks:
Frozen foods
Produce, dairy or meats
Cakes or baked goods
Vaccines and medications
Chemicals or engineered materials
Fine art or antiques that require humidity control
Perfumes and cosmetics
Tobacco products
Floral arrangements
Benefits of Reefer Trucks for Perishable Goods Delivery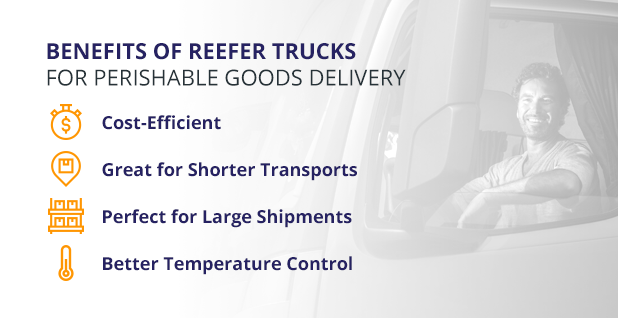 Reefer trucks offer many benefits for perishable goods delivery that are not available using traditional shipping methods. Below are a few reasons to use a cold or frozen truck for your perishable products:
Cost-Efficient: Reefer trucks allow you to ship more products at once while cutting back on packaging costs.
Great for Shorter Transports: You can complete local deliveries more quickly with a reefer truck than via mail, and your customers will be pleased with your fast delivery services.
Perfect for Large Shipments: Reefer trucks have the capacity for large shipments that would be costly to send via mail. If you have high-volume clients, they will appreciate receiving their deliveries quickly and at the same time rather than in several different packages.
Better Temperature Control: When using a reefer truck to deliver perishable goods, you can continuously monitor the temperature to ensure high-quality. When shipping products in the mail, you cannot control the temperature of the product once it leaves your business.
Perishable Goods Delivery Regulations
Depending on what type of perishable goods your company is transporting, there may be specific regulations that your logistics team must stay in compliance with to avoid liability. If you are carrying floral arrangements or other perishable products not meant for consumption, your primary concern will be maintaining quality rather than ensuring safety. If you are delivering food or pharmaceutical products, however, you must be aware of the applicable federal regulations.
The Food and Drug Administration (FDA) released the Food Safety Modernization Act (FSMA) in 2011 in an attempt to prevent food contamination that has become a growing problem in the U.S. As part of this regulation, the FDA specifies safe practices for transporting human and animal food. The rule on Sanitary Transportation of Human and Animal Food sets guidelines for maintenance and design of transportation vehicles, transportation operations, training procedures and record-keeping.
All vehicles transporting human or animal food must be made of materials that are able to be adequately cleaned and sanitized, such as stainless steel. Refrigerated shipping vehicles must be able to maintain the appropriate temperatures for food transport and have functioning temperature controls. During transportation, reefer truck temperatures must be maintained and monitored. Companies must keep accurate records of food temperatures at each stage of shipping, including loading, transport and unloading. Then, they must fully disclose these records when requested and retain them for up to 12 months.
Below are some other best practices to keep in mind when shipping food or beverages in reefer trucks:
Always pre-cool the truck before loading the product.
Always pre-cool the product before loading it into the vehicle. Reefer trucks are designed to maintain temperatures, not to lower the product's temperature. This is particularly important with produce that has a high rate of respiration.
Verify that the reefer truck is at the correct set point required for the product you're shipping.
Set the temperature mode to continuous, so the reefer truck actively maintains the set temperature. A continuous setting will have a set defrost cycle, so ice and frost do not build up on the truck's cooling mechanisms. If the truck will be making a lot of stops and the door will frequently be open, you may need to adjust the defrost cycle, so the vehicle defrosts more regularly.
When delivering pharmaceutical products, you must comply with the FDA's Code of Federal Regulations. Pharmaceutical products must not be handled or stored in a way that could adversely affect their quality, including proper temperature and humidity control during processing and transport. FDA regulations also require accurate record-keeping throughout the transportation and distribution process.
Outsourcing Your Transportation for Perishable Goods
As your company grows, you may need to develop a more advanced cold chain system for delivering your perishable goods. You may have been able to rely on shipping products in the mail before, but as your capacity grows, you will need a more efficient and cost-effective delivery system.
Managing your own logistics system will mean hiring staff members and buying or renting reefer trucks. If you prefer to focus on creating your product rather than worrying about shipping, consider using a third-party logistics (3PL) partner to manage your perishable goods delivery. Outsourcing your perishable goods delivery system has many benefits that will save you time and money while allowing you to focus on what you do best — running your business.
Below are a few benefits of outsourcing your perishable goods transportation:
Less Stress: Your 3PL partner will be knowledgeable about regulations and policies that affect perishable goods delivery. They will handle all the shipping paperwork, so you can be confident your goods arrive at their destinations safely and within regulations.
More Flexibility: Working with a 3PL company means you'll have access to different sizes of trucks and shipping vehicles to tackle any job. Rather than sending a truck that is only half-full, your shipping partner can supply the right-sized vehicle for the job. An excellent 3PL partner will be able to adapt to your changing needs on a day-to-day basis.
Save Money: When your 3PL partner handles your shipping paperwork and transportation management, you do not have to hire your own staff for the job, saving you time and money. The 3PL market has grown in recent years, making it an accessible and affordable option for small and large companies alike.
Outsourcing your perishable goods transportation will allow you to focus on growing your business, rather than worrying about how your products will get to your customers. Save time, money and stress by outsourcing your perishable goods delivery.
Trust Mitchell'sNY Logistics for Your Perishable Goods Delivery
Mitchell'sNY Logistics is a 3PL company serving New York City, the tri-state area and Boston. With decades of experience behind us, we know the area better than anyone else and have an unbeatable record of on-time performance. Our local expertise means we can supply fast, accurate perishable goods delivery in Manhattan and beyond, with consistency you can trust. We even offer two-hour deliveries anywhere in Manhattan, so you can fulfill orders faster and keep your customers happy.
When you choose Mitchell'sNY Logistics for your refrigerated truck delivery service, our expert team will ensure your perishable goods always arrive at the proper temperature and ready for your customers to enjoy. We deliver to businesses, hospitals and residential addresses to meet all of your delivery needs. Whether you're an individual seeking fresh grocery delivery or a hospital receiving pharmaceutical supplies, Mitchell'sNY Logistics can provide perishable goods delivery for you. Our reefer truck delivery offers temperature control up to 65°F, so you can ship anything from frozen fruit to fresh flowers.
When your business works around the clock, Mitchell'sNY Logistics can offer early morning, late evening and weekend deliveries. We'll help you meet deadlines and impress your customers with prompt delivery of refrigerated or frozen goods anywhere on the east coast. Plus, our reefer trucks have GPS tracking, so you will know exactly when your products have arrived.
Rest easy when you partner with Mitchell'sNY Logistics as your perishable goods delivery partner. We pride ourselves in handling each delivery with special care and a personal touch you won't find at a larger company. Our team wants to provide the best perishable goods delivery service to you, so you can offer the best products to your customers. To hear more about our frozen and refrigerated truck services, contact us today for rates and services.