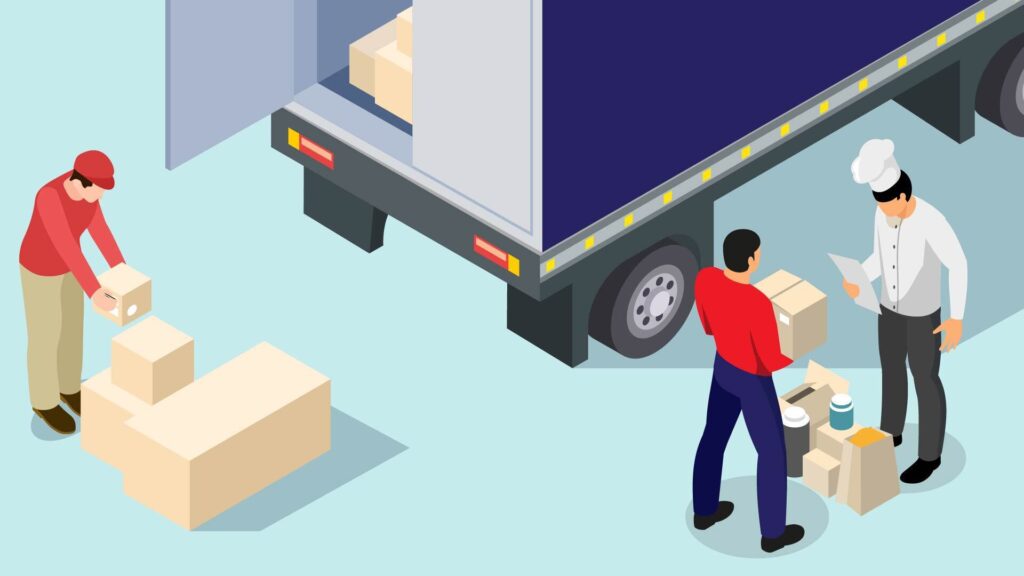 Thanks in part to the COVID-19 pandemic, more convenient, cost-effective dining options, such as commissaries and other delivery-centric business models, are taking center stage. Serving commissary kitchens and at-home consumers with prompt delivery ensures food maintains the right temperature and appropriate condition.
Keeping Things Cool for the Food and Beverage Industry
Whether it's ice cream, fresh produce, seafood, poultry, or flowers, how do you ensure all of that cold freight makes it to their destinations safely while maintaining a constant temperature. That's where cold chain logistics comes in! Follow us down the path to find out everything you need to know about our cold chain delivery service.
When moving a temperature-sensitive product, it's vital first to assess its characteristics. A key issue is the temperature conditioning and packaging of the shipment, which should already be at the desired temperature. Delivery is the cornerstone of any on-demand business. Several key factors play into moving the order, including: 
Maximum and minimum temperature load will be exposed to

Length of exposure

Temperature set range

Tolerance of the product

Data logger position

Distance between origin and final destination

Size and weight of the shipment

Direct sunlight exposure
Other concerns are weather conditions, such as if the shipment will be exposed to extreme cold or heat along the transport route. Using an active reefer with its own power unit usually mitigates such concerns. The load unit carrying the temperature-sensitive cargo must also be prepared. Another issue concerns atmospheric control — maintaining appropriate oxygen and carbon dioxide levels, helping control (delay) the ripening for perishable goods, with ethylene being a key factor.
Benefits of Using Third-Party Delivery Services
You can entrust the entire delivery process to specialized service providers who know exactly how to navigate the streets. And, you get to leverage a technology platform that offers reliable delivery. 
When choosing a delivery service, learn who services your area and make sure they are a trustworthy partner for your business. A reliable delivery partner is essential, as it is one of the sole representations of the kitchen's brand. The best food delivered poorly or slowly is less likely to win repeat business.
Minimal start-up costs
Launching an in-house delivery service requires training a delivery team, vehicle maintenance, and navigating new insurance policies. There's a lot of associated costs.
Third-party delivery partners are prepared. They provide the drivers, network, route management, communications, payroll, and labor management.
Promote the business and attract new customers
Third-party delivery services provide the opportunity to target new customers because services are convenient and accessible. Food orders should be easy to place. When customers see a third-party delivery option, they are likely to choose that restaurant over one that is not offering delivery options.
Fewer order mistakes

Many third-party delivery systems are set up for customers to customize their orders specific to their needs. It helps eliminate human error when taking orders as your entire menu is presented to customers in an interactive and easy-to-use way.
Fewer headaches
Using a delivery service enables owners and staff to focus more on their patrons. Owners don't have to deal with the stress or their team's safety while out on delivery.
Mitigate risks with third-party delivery services
Business owners need to prepare for short and long-term issues. Some questions to consider include, but aren't limited to:
Is the third-party provider compliant with industry standards for safe food handling (e.g., temperature maintenance and procedures?

Does the provider utilize tracking technology to help defend against a foodborne illness claim?

Do they have strong indemnification terms that shift responsibility to the third-party delivery service if any claims arise?
Why pay for vehicle leases, rentals, driver pay, vacations, sick days, registration, insurance, or any other costs associated with overhead? Our services help lower the cost of operations. Our routed work (i.e., daily or weekly repeated stops) helps reduce driver error and increases our services' optimal performance. As a result, customers enjoy timely deliveries with less product damage during transport.
Our Delivery Process Ensures Optimal Freshness
From boxes of prepared meals to pallets of frozen seafood, we can start pickups from kitchens as early as 4 am ( or when food is prepared) for delivery to same-day consumers.
Step 1:

One of our experienced drivers arrives at your kitchen to pick up the delivery. Products need to be packed correctly, whether on pallets, boxes, or storage bins. We turn on the refrigerated units at Mitchell'sNY Logistics location, so the vehicle arrives cold to ensure proper temperature at the pickup location. 

Step 2:

The driver leaves the kitchen en route to the consumer and/or storefronts. We monitor the refrigerated temperatures via sensors in our vehicles.

Step 3:

Upon delivery, the consumer/client receives confirmation of delivery completion. 
Mitchell'sNY Logistics proudly serves customers from south New Jersey to upper Connecticut to Hamptons NY, Manhattan, Brooklyn, Bronx, and Queens. All of our vehicles have GPS and refrigerated sensors for collecting sufficient data, which we share upon request. Our vehicles can deliver in cold or freezing temperatures. We understand that it's imperative to keep the cold chain intact.  
Whether you need supply chain expertise to lower your overhead costs and improve the quality of service you offer your customers, or you just want your food delivered on time, our refrigerated trucks help minimize your transit time.  
Contact us today to speak with an experienced team member and learn more.