Mitchell'sNY Logistics is Expanding into the Boston Market!

Are you in need of a dependable, temperature-controlled trucking service for your business in the Boston area? Refrigeration and frozen shipping services play an instrumental role in businesses that handle perishables. Temperature-controlled trucking services are valuable for many industries, including food and beverage, hospitality, special event, and medical. 
Pharmaceuticals frequently rely on instructed temperature levels during transport. Hospitals, laboratories, and doctors needing medical supplies choose refrigerated shipping to remain within FDA guidelines to assure quality product delivery. 
Gourmet and specialty shops rely on them to transport foodstuffs such as fresh seafood, steaks, cured meats, and cheeses. Catering services use these services to ensure perishable items arrive at their destination in peak condition. Commissary kitchens depend on them to provide efficient delivery of high-quality products needed for their processes. 
Event planners also benefit from temperature-controlled trucking services; these specialized vehicles can maintain the proper temperature of taco bars or ice cream sundaes during transport. In short, many businesses across different industries need temperature-controlled trucking services in order to maintain quality control and customer satisfaction.
Restaurants, bakeries, and farmers' markets all rely on temperature-controlled trucking services for their business. Ensuring the safe delivery of perishable goods is essential for these industries to function properly, which is why such services have gained prominence in recent years. Furthermore, time-sensitive commodities depend on these specialized transportation systems to remain fresh before reaching their final destination. Without temperature-controlled delivery services, these businesses would find it difficult to guarantee quality products at all times.
Mitchell'sNY Logistics is now offering scheduled and routed refrigerated and frozen deliveries to businesses in the Boston metro area. With our modern fleet of refrigerated and frozen trucks and vans, we provide fast and reliable delivery services for all of your perishable needs.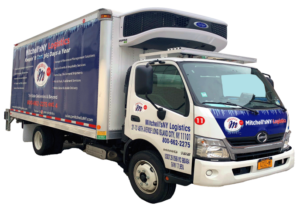 Refrigerated and Frozen Deliveries in Boston
Boston has an ever-increasing chain of businesses connected to the trade of refrigerated and frozen goods; therefore, serviceable deliveries must be swiftly placed at their destination. With a clearly organized network for logistics, fleets are able to manage location selection which means options rather than just limited space per load delivery stops are possible. This creates not only convenience but workflow experience efficiency too.
With Mitchell'sNY Logistics, you can count on dependable delivery of your temperature-sensitive products with our experienced drivers who understand the importance of keeping your goods at the right temperature from pickup to drop off.

A Full Suite of Cold and Frozen Truck Delivery in the Boston Metro Area
Mitchell'sNY Logistics is ecstatic to offer the city of Boston access to our complete gamut of temperature-controlled truck and van delivery services. From cold to frozen items, we accommodate all the needs of today's modern business operations. Our reliability and high level of service quality make us essential partners for any perishable supply chain endeavors. 
Here in Boston, thanks to our record commitment rates, punctuality, and cutting-edge fleet capabilities, you can rely on our solutions for all shipments anytime, no matter the size or the distance. Our experienced drivers understand the importance of safety and efficiency in expediting reliable temperature-controlled trucking for perishable items.
We know how important speed, accuracy, and reliability are in deliveries, which is why we take great care to ensure our clients receive the best possible service. In addition to scheduled and routed deliveries, customers can take advantage of our competitive rates and flexible scheduling options within the Boston metro area. With every delivery, you can rest assured that your shipment is handled with the utmost care and attention.
Are You Looking for Cold and Frozen Truck Delivery Services in Boston? 
At Mitchell'sNY Logistics, we understand what is needed for your frozen and cold tasks in Boston. Our cold and frozen truck delivery services are reliable, cost-effective, and secure. Through our unparalleled client service, we provide you with unrivaled expertise and knowledge to ensure your frozen goods get safely to their destination.
Our team of experts offers the perfect solution for storing and truck delivery, adding value as determined by our employees' wealth of experience. On top of that, you can trust our company to deliver reliable service with quick response times during every step of the process.
Our drivers are experts in delivering perishable items safely and quickly to their destinations, so you can trust that your goods will be delivered on time and in the best condition possible. At Mitchell'sNY Logistics, we make it easy for you to manage frozen and cold tasks without worry.
Trusting Mitchell'sNY Logistics' services to ensure transportation of your frozen product results in security and peace of mind that it will be successfully delivered to its destination, uncontaminated and undamaged by extreme temperatures or any other force en route.
At Mitchell'sNY Logistics, we aim to provide you with fast, reliable, and cost-effective transportation solutions. We are committed to providing high-quality service that meets all of your needs. 
For trusted trucks with a frosty touch, trust Mitchell'sNY Logistics! Contact us today for more information on how we can help you Keep it Cool in Boston as well as NYC and the Tri-State area.