Every company has logistics and supply chains no matter the size of the business or the industry they're in. Increasingly, businesses are turning to third-party providers of logistics services and supply chain management to meet these needs, help them increase customer satisfaction and gain a competitive edge.
Mitchell'sNY Logistics has been providing these services, including delivery, warehousing, crating, freight forwarding and more, to New York City and the tri-state area for decades. It's safe to say we know logistics and supply chain management.
So, what exactly are these vital parts of a business' operations, and what functions do they entail? What services does a third-party logistics, or 3PL, company provide? Read on to find out.
What Is Logistics?
Logistics is defined as the processes a business uses to get goods from their point of origin to their customers. The goal of logistics management is the seven Rs: getting the right product to the right customer in the right quantity in the right condition at the right place at the right time and at the right cost.
As necessary functions of getting goods from point A to point B, logistics also includes the flow of information and finances that goes along with the products. The end result of effective logistics management is customer satisfaction.
You can break logistics down into two broad categories: inbound and outbound:
Inbound logistics involves the flow of goods, materials and other assets from suppliers to your company. Inbound logistical activities include procurement, transportation, handling and storage.
Outbound logistics involves getting your finished product from your company to your customers. Outbound logistical activities include collection, maintenance, order packing and fulfillment, distribution and delivery.
Logistics also includes activities such as managing and controlling stock and maintaining the balance between supply and demand. Smart logistics management helps to prevent both understocking, not stocking enough goods, and overstocking, stocking too many goods. If you understock, you can't provide customers with the goods they want and satisfy the seven Rs. If you overstock, your costs will be unnecessarily high.
Whether or not a company has an explicit logistics strategy, logistics plays a role in its operation. Every business needs to get something, whether it's products, services, information or finances, from one place to another. Coordinating the activities this requires is logistics.
Even a business as simple as a lemonade stand involves the basics of logistics management. To run one, you must conduct, perhaps with the help of an adult, logistical activities such as obtaining the ingredients to make the lemonade as well as pitchers and cups and choosing a location for the stand.
Most businesses have much more complicated processes than this and, so, to achieve customer satisfaction and a successful business operation, they must develop a logistics management strategy. Some companies handle the development of this strategy and the execution of logistical activities internally. Others work with a third-party logistics company that helps them to create and execute a strategy. The third-party organization may also already have processes and infrastructure in place that the company can use.
What Is Supply Chain Management?
Supply chain management is a term that's often used in tandem, or even interchangeably, with logistics management. The two concepts supplement each other, but they can be differentiated. Logistics is often said to be one of many sets of activities that make up the larger supply chain. The supply chain has been described as the body, while logistics is the blood that runs through it.
Supply chain management is similar to logistics in that it involves the processes that get the end product to the customer. There are several key differences, however, between the two:

Logistics focuses on just one company, while the supply chain involves every organization that plays a role in getting a product to the end user, including suppliers, manufacturers, wholesalers and retailers.
Logistics focuses on getting a finished product from the supplier to the customer. The supply chain includes everything from development to sourcing to manufacturing to distribution, as well as other business activities.
The goal of logistics management is customer satisfaction, while the goal of supply chain management is gaining a competitive advantage.
Managing the supply chain helps to link together the various companies and processes that play a role in meeting the requests of customers. It creates the framework within which logistics activities occur and strives to develop a business model that meets goals, such as improved efficiency, consistent quality and reduced costs.
It also plays a vital role in meeting social responsibility objectives as it helps businesses ensure their products are sourced, manufactured and transported in a way that respects human rights, wildlife and the environment. The impact it has on a business' progress toward these goals is why effective supply chain management is important for customer satisfaction and a company's public image.
Supply chain management includes a wide range of activities across various organizations that include but are certainly not limited to:
Product development
Sourcing
Procurement
Production
Testing
Logistics
Customer services
Performance measurement
Integration
Like logistics, supply chain management involves the flow of physical goods, information and finances. Also, similar to logistics management, companies might use internal processes to manage their supply chains or work with outside companies. These third-party operations may help them to develop a supply chain management strategy, assist them in managing their supply chain or provide consulting services.
Software also often plays a role in managing the supply chain. Businesses can employ various software and web-based systems to track the flow of goods and information as well as, with the help of algorithms, determine the optimal way to fill orders. A company might choose to share the data input into these programs with their suppliers or clients to make their supply chain more efficient.
Overview of Services
What kinds of logistics and supply chain needs do businesses have? It differs from company to company, but below are some of the most common ones. The logistics branch of Mitchell'sNY is proud to offer these services to New York City and the rest of the tri-state area:
Courier and Messenger Services 
When you need to get a small package or parcel to its final destination quickly and accurately in NYC, Mitchell'sNY Logistics can help. With over 7 decades of local experience, we are able to deliver over 750 packages on time every single day. Our bike couriers and foot messengers will get your package where it needs to go when it needs to be there no matter how much traffic, roadwork, subway closures or local events they encounter. Our courier and messenger service can handle anything that weighs less than 10 pounds and is sized smaller than 36 inches.

Motor Delivery
For packages over 10 pounds and 36 inches, we offer export motor delivery. We can deliver packages within Manhattan in two hours and provide same-day delivery for outer boroughs. Contact us for estimated times and rates for other areas. We can also transport large packages nationwide by box truck or tractor-trailer and will handle processing pickup and delivery.
Delivery by Refrigerated Trucks
Perishable goods require special attention and properly regulated temperatures. Our refrigerated trucks delivery service provides both. We accept up to a full truckload of goods and can provide refrigerated delivery in Manhattan within two hours and fast delivery to other areas.
White Glove Pick-Up and Delivery
When you need your event to go off without a hitch, you can depend on Mitchell'sNY Logistics. We offer white glove pick-up and delivery services and will handle your event logistics from start to finish. We provide crating and packing, loading and unloading along with pick-ups and delivery.
We can transport anything you need, including fragile and high-value items and perishable goods. We're a premier provider of shipping and delivery services for Javits Center events and have worked with some of the top fashion designers in NYC.
Crating and Freight Forwarding
We can also transport your high-value and extra-large items. We offer custom crating solutions that can accommodate goods of any type and size, even those with odd dimensions. Our quality crating materials will protect your items and make sure they arrive at their destination safely. We also offer freight forwarding to all 50 states and can even organize international freight forwarding.
When working with Mitchell'sNY Logistics, you'll have access to dedicated shipment options, overnight air shipment and sea shipment upon request. You can drop your crated items off at our loading dock, or we can come pick up your shipment and crate it if necessary.
Warehouse Logistics
You can also outsource your shipping and warehousing to Mitchell'sNY Logistics. We have secure facilities and experienced staff that enable us to provide reliable on-time delivery, daily email updates and exceptional customer service. We're your source for pick-and-pack fulfillment and last-mile logistics services.
Since needs vary throughout the year, our warehousing services are highly flexible. We can store merchandise of all sizes and accommodate both large and small operations with our over 45,000 square feet of storage space. We can also create a warehouse management system customized to your unique business needs and goals.

Time Services and Facility Management
Reduce your overhead and streamline your operations by letting us take care of your time services, messaging and facility management. We'll provide in-house mailroom support, messenger service, document delivery, order fulfillment and other services to help you optimize your company's communications.
Rather than hiring staff and investing in facilities and equipment, you can take advantage of our affordable, reliable service.
Convenience Services
Our friendly, professional staff also provides a wide range of convenience services. These services are available anytime including late nights, early morning and weekends. Mitchell'sNY Logistics is your source for:
Commercial and residential moving help
Packing supplies
Temporary and long-term storage
Truck tracking
Garbage disposal
Temporary staffing
And more
Delivery, Logistics and Supply Chain Management Consulting
You can also come to us for consulting services regarding delivery, logistics and supply chain management. With over 74 years of logistics and supply chain experience and local knowledge, we're the company that NYC trusts for everything from vendor management to last-mile logistics.
The experts at Mitchell'sNY Logistics can help you develop strategies for choosing a supply chain management solution that works for you. We apply a personal touch to our extended supply chain management service with our constant communication and friendly, helpful customer service.
Reasons to Use a Third-Party Logistics Company
Working with a third-party logistics company has a number of advantages over handling everything yourself. That's why 65 percent of shippers are expanding their use of 3PL services, according to a study from Georgia Tech's Supply Chain & Logistics Institute. It's also why 86 percent of domestic Fortune 500 companies use third-party logistics, according to data from consulting firm Armstrong & Associates.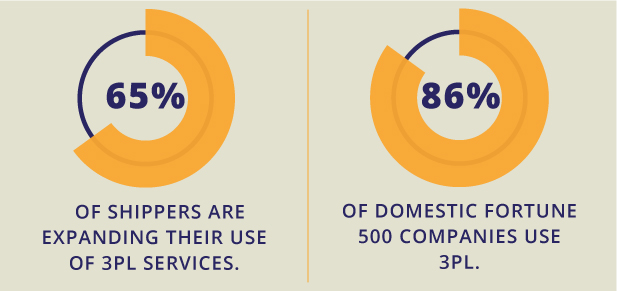 Many of these companies even work with multiple 3PL companies, and here's why:
A Large Resource Network
3PL companies typically have access to a larger resource network than individual companies. This opens up new opportunities, especially for smaller businesses, and means there are more ways to optimize operations.
Cost Savings
You could get access to some of those resources yourself, but it would require a significant up-front investment. 3PL services can also reduce your overhead costs through increased efficiency and large-volume discounts.
More Time for Your Core Business
In addition to saving money, outsourcing your logistics management saves you time. You don't have to do everything yourself, and, due to the number of resources they have, 3PLs can often get things done faster. This gives you more time to focus on what you do best — running your core business.
Expertise
For 3PLs, logistics is their core business. That means they have a lot of experience, knowledge and skills in this area, which can improve the results of your logistics management.
Flexibility and Scalability
Working with a 3PL provides more flexibility and scalability than handling logistics yourself. For example, you can easily scale up or down on inventory and warehouse space based on demand during different times of the year.
If you had bought a warehouse when demand was low, part of your facility would sit empty. It also gives you more freedom to expand into new areas, without making significant up-front investments.
Improved Customer Satisfaction 
Ultimately, working with a third-party logistics company can improve customer satisfaction because it can help you get your customers the products they need faster and at a lower cost.
Selecting a Third-Party Logistics Company
When choosing a logistics company, you need to consider your unique business needs and goals and choose the company that will best help you meet them. Here are some of the factors you should consider:
Available Services
Make sure the company has the services you need, whether that's warehousing, delivery, crating or anything else. Since you can use multiple companies, they don't need to have every single service you might require. They should, though, be willing to work with you to come up with solutions that fit your needs.
Equipment and Resources
You'll also need to consider the size and location of their warehouses, the size and qualifications of their staff, their delivery vehicles and the technologies they use. Make sure these resources can meet your business' requirements.
Availability and Location
Before you work with a 3PL, you need to make sure they're available when you need them, especially if you might require their services during early-morning, late-night or weekend hours. You should also consider where they're located in relation to you and your customers. Local knowledge of an area can make deliveries much more efficient.
Track Record
Look for testimonials, reviews and statistics, such as on-time delivery ratios, online. If they have clients that have been with them for a long time, that can be a positive sign. Feel free to ask for references from the company too. Also, consider years of experience and whether they've done work that's similar to what you need.
Pricing
You'll also have to make sure the pricing aspects, including the overall cost, pricing structure and payment terms, of the services you need make sense for your company. The 3PL should be able to provide you with a quote.
Are you considering working with a third-party logistics company? There's no better choice than Mitchell'sNY Logistics. We'll work with you to create a custom logistics and supply chain management solution for your business.
With decades of experience, local knowledge and logistics expertise, we can provide you with the services you need to meet your company's needs and reach your goals. Contact us today via phone, email, mail or online form to learn more about our services and how they can benefit your company. You can also request a free quote online.