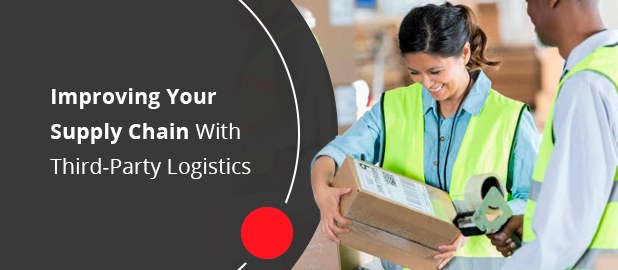 Imagine a partner taking care of the most complex, expensive and overlapping aspects of your supply chain. We're talking those real thorn-in-your-side logistics, from sourcing product components to international shipping to maintaining an orderly, high-functioning warehouse.
Imagine partaking in a competitive differentiator thousands of companies use. Imagine reducing per-unit production costs while increasing order fulfillment speeds — all without sacrificing quality. Imagine the smiles on your customers' faces when they get their deliveries quicker and have more options than ever to customize orders to their needs.
With a third-party logistics provider, you don't have to imagine these benefits. You can live them.
What Are Third-Party Logistics Services?
Third-party logistics providers (3PLs) are businesses that consult, oversee and execute a range of supply chain logistics for their clients. Companies that use one or more 3PL services no longer internally manage material sourcing, transportation, delivery and storage functions, outsourcing those to their partner.
In summary, 3PLs are logistics specialists, managing a range of inbound and outbound functions so your organization can sit back and focus on its core competencies.
Objectives of Logistics Outsourcing
3PLs unlock numerous benefits for organizations looking for a more profitable way to manage materials and distribution. Through a range of inbound and outbound services, a 3PL provider brings a fresh approach to supply chain strategies, often resulting in:
Quicker transportation: 3PL providers manage cost- and time-effective routes mastered across years of business and managed by cutting-edge transit technology. Some providers offer valuable transit service add-ons, such as last-minute or last-mile delivery.
Cheaper transportation: Total logistics expenses contribute between 15 and 20% of a product's final cost. Producers with a well-oiled supply chain that includes specialized 3PL services can see wider profit margins in current product portfolios, all without raising prices.
Manage international customs: Products shipped internationally must go through the complicated and often convoluted customs process. Most small to mid-sized producers don't have the resources to commit to international customs compliance. A 3PL with a customs function shoulders this task and mitigates your risk across all international shipments.
Practice cost-effective warehousing: Between inventory depreciation, insurance, taxes and product obsolescence, manufacturers waste over $16 billion a year in warehousing expenses. A 3PL partner dedicated to warehousing and inventory management handles these cost categories so you don't spend unnecessarily.
Boost customer satisfaction: Convenient delivery customizations, quicker order fulfillment, more direct routes and localized delivery networks mean your customers are happier — all made possible through a 3PL service.
Third-Party Logistics Advantages
Consider these pros of third-party logistics, many of which our own customers here at Mitchell'sNY Logistics experience.
1. Dedicated Experts
Third party-managed supply chains are specialized. These businesses are dedicated exclusively to the organization, transportation and distribution of physical goods as efficiently and economically as possible — that is, getting materials or finished products from Point A to Point B quickly and cost-consciously.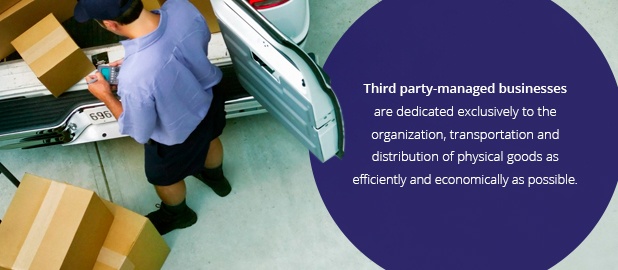 You get the reassurance your products or components are in experts' hands. You'll also experience the echoes of that expertise in tangible improvements across metrics like quicker delivery timetables, lowered purchasing expenses, better inventory demand forecasting, reduced per-unit production costs, and much more. It all depends on your logistics needs and service portfolios of your third-party logistics provider.
2. Increased Information Technology
To perform their services, 3PLs frequently remain up-to-date on the latest logistics technology. Investing in these advanced shipping, tracking, distribution and inventory management tools helps them uphold their end of a service contract — plus, it's a competitive differentiator amongst their own industry rivals.
By partnering with a 3PL, your organization gains the benefits of these technology-fueled supply chain improvement initiatives without pouring hundreds of thousands into procuring and maintaining the latest tools yourself. In some cases, you may even get partner access to logistics technology at a fraction of the price. This includes but isn't limited to advancements like:
Inventory management systems, plus voice-controlled and RFID systems
Fleet and freight tracking
On and off-premise delivery systems
Document management systems with file transfers and possible cloud access
Yard management technology
Order management and fulfillment software
Advanced data analytics programs
IT infrastructure improvements across security, network features, software add-ons and miscellaneous applications
3. Simplified In-House Operations
A "do-it-yourself" mentality may have served your organization in the past. Yet research in supply chain management continually reveals an inflection point once manufacturers and producers hit certain daily outputs — around 20 orders per day. At these levels, it actually costs more to do everything yourself, siphoning resources that could be more strategically allocated into core competencies with a higher return on your investment.
For example, outsourcing logistics means your organization no longer needs to individually own, pay for and manage:
On-premise inventory or storage
Remote or off-premise field staff, such as truck drivers or delivery personnel
Remote or off-premise fleets
Broad document-management systems containing end-to-end supply chain documents, invoices, billings, shipping and customs paperwork
4. Saves Money
Organizations using outsourced third-party logistics see dramatic improvements to operating and overhead expenses alike.
For example, outsourcing freight forwarding and long-distance shipping logistics can introduce freight consolidation and volume discounts previously unexperienced. Outsourcing warehousing across strategic points in the supply chain can decrease storage and inventory holding costs, as well as their taxes and inventory depreciation losses. Outsourcing transportation and delivery reduces fixed-asset expenses such as vehicle maintenance and fleet fueling. The list goes on.
Few strategic solutions let you kill two budget birds with one stone. It's why 3PL cost savings are repeatedly one of the most researched and discussed advantages in supply chain improvement initiatives.
5. Provides a Competitive Edge
Differentiation has become one of those business buzzwords tossed around so often, it's easy to forget its actual meaning. Partnering with a 3PL provider remains an effective supply chain strategy bringing an objective, data-backed competitive edge to your brand.
If you receive just 10 to 20 orders a day, you can see stronger profit margins through an outsourced fulfillment and delivery partner. Those wider profit margins can be directly reinvested into strengthening your core competencies, making your organization the leanest, best version of itself.
Outsourcing in Supply Chain Management
What are the supply chain strategies improved by outsourcing to a 3PL? While operational specialties and services will vary, you'll find services ready to improve any of the following inbound or outbound domains for your business.
1. Order Fulfillment
Order fulfillment refers to the complete process of delivering a customer's order, from its point of purchase through to its final destination.
Many 3PL services can assist at granular or specific points in the fulfillment process. For example, your partner logistics provider could assist with oversight on international order fulfillment for a particular new market you're launching into — including supplementary international warehousing and end-point delivery — whereas you continue to maintain domestic logistics operations. Yet they can also provide more holistic services, such as offering technology like an order management software that synchronizes your entire sales, inventory, order and fulfillment data.
2. Customs Dealings
All internationally shipped cargo must pass through customs before entering its relevant market. This is a complex and time-consuming process — yet an essential one whenever importing or exporting merchandise components or the final product itself.
Consider using a 3PL provider that specializes in customs services to simplify this aspect of your supply chain. Third-party logistics experts in customs clearance will directly oversee every step of your import and export process, including:
Customs duty and fees oversight
Compliant import and export documentation, such as buyer/seller purchase orders, sales invoices, packing lists and bill of lading
Proper packaging
Insurance
International transportation vendor management and arrangement
3. Freight Forwarding
Freight forwarding, at its core, is the transportation of imported and exported merchandise via sea, land and air to its customer, market or final distribution center. Freight forwarders, often called freight agents, liaise between you as the producer or supplier and all necessary shipping and storage partners to negotiate carrier prices and select your most economical route.
This type of 3PL service is particularly essential for supply chain improvement projects where international or long-distance domestic shipping is involved. A freight forwarder's assistance on proper customs procedures and documentation bolsters your compliance and reduces risk in this aspect of the supply chain, plus can even reduce your long-distance shipping costs through tactics like strategic crating and freight consolidation.
Mitchell'sNY Logistics is one of the premier crating providers and freight forwarders throughout Manhatten and the Tri-State Area. Read more on our freight forwarding services.
4. Warehousing and Storage
Warehousing 3PLs specialize in the storage of goods across your entire supply chain. That means storage operations both at a final distribution center, where inventory is received, organized and ready for immediate customer ordering, as well as overnight storage across the long-distance shipping or delivery networks.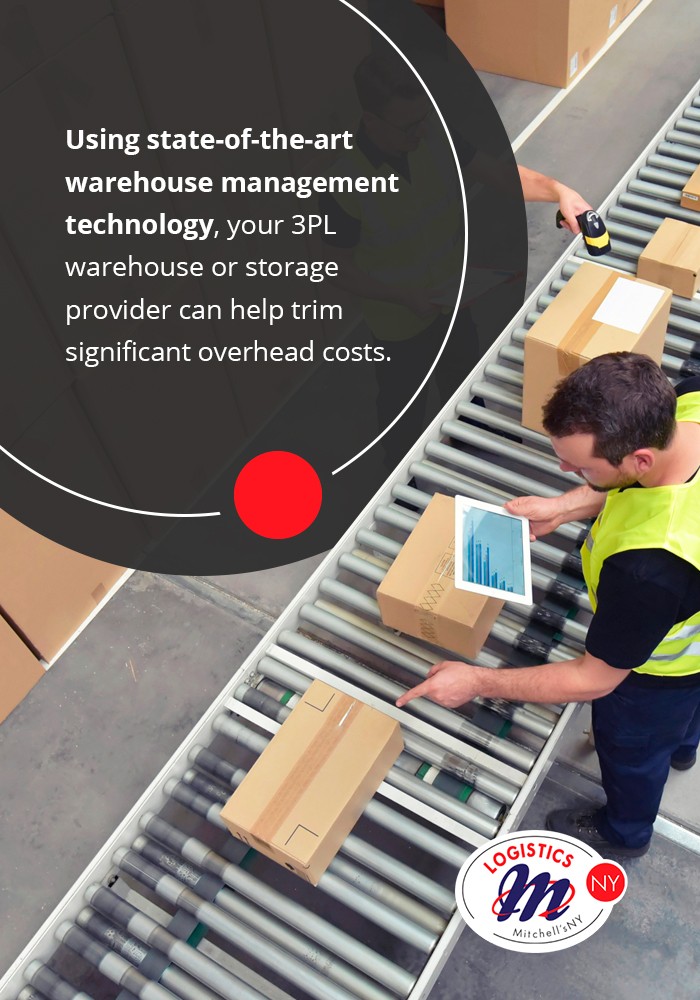 Often using state-of-the-art warehouse management technology, your 3PL warehouse or storage provider can help trim significant overhead costs. Outsourcing your storage logistics needs can reduce — if not eliminate — storage and inventory holding costs and fixed-asset expenses for the warehouse itself, trimming your total supply chain expenses.
5. Inventory Management
As its name suggests, inventory management logistics centers on the day-to-day management of your stored goods. Whether you operate one warehouse or dozens spanning multiple regions, an inventory management 3PL can lend expertise, insights and tech tools to leverage higher-functioning administrative and operational inventory practices.
Everything from material handling, order processing and order fulfillment to advanced product forecasting, preempting seasonal shifts in product demand, can see improvements with an inventory 3PL. You save time and money while optimizing an often "business-as-usual" aspect of logistics many still take for granted.
6. Local Delivery
Local delivery 3PLs coordinate regional distribution networks, administering all the necessary compliance, transportation and delivery details in that specific zone.
Outsourcing your local delivery operations to a 3PL allows you to focus on broader innovations and core competencies rather than worry over every aspect of the delivery supply chain, which is expansive and multifaceted. Some specialized delivery 3PLs, like Mitchell'sNY Logistics, even offer home and office services in particular regions. Delivery options include rush order services, white-glove delivery, delivery-upon-request and more, ready to relay your items in as little as one hour.
7. Trucking and Transportation
From box trucks to full-sized, 50-plus-foot semi-trailers, trucking and transportation 3PLs maintain their own fleets to provide local and long-distance cargo transportation for clients.
Similar to outsourcing other fixed-asset expenses such as warehousing, partnering with a trucking and transportation 3PL lets you consolidate resources and prioritize current core competencies, not spread yourself too thin. This type of logistics service has the added bonus of offering specialized transportation, which producers often don't have the resources to maintain. Think specialized transportation equipment such as refrigerated trucks required for perishable foods and similar goods.
8. Last-Mile Logistics
Last-mile logistics concern the final leg of delivering a product to its end-user, in most cases the customer. This stage of delivery has traditionally been the bane of transportation supply chain logistics, in some cases eating up almost 30% of total transportation costs.
Last-mile logistics 3PLs are dedicated to trimming final-stage delivery inefficiencies and wastefulness. They specialize in reviewing your transportation and storage routes, order fulfillment processes and administrative technology to find current gaps, then tailor new systems better matched for your last-mile needs. The result is deliveries made more quickly and more cost-effectively, plus happier customers receiving their orders promptly.
9. Facility Management
Outsourced facility management allows a 3PL provider to coordinate and maintain all activities in your core logistics facilities, including warehouses, packaging plants, customer support, mailrooms and message centers. This type of 3PL supply chain strategy is attractive for producers looking to re-dedicate energies onto a few select in-house operations, as well as those wishing to improve the safety, compliance and efficiency of all facilities and infrastructure.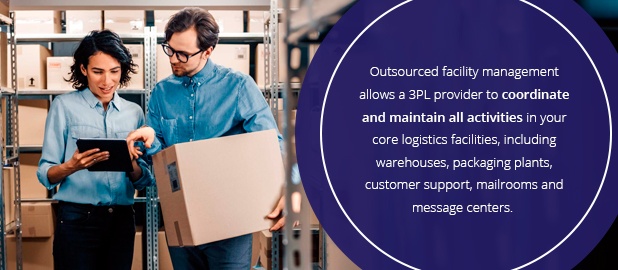 The advantages of 3PL facility management are numerous. Upfront, outsourced management may be cost-effective, allowing you to allocate funds previously dedicated to internal management staff, information technology and equipment into other innovations. Downstream, your facility management 3PL offers facility improvements personalized for your exact infrastructure, leading to cost-savings and improved capabilities.
10. Supply Chain Management Consulting
Supply chain management consulting brings expert guidance across all macro functions of your supply chain performance.
Instead of partnering with a 3PL on a specific logistics concern — such as any of the domains listed above — supply chain management consulting brushes broad strokes of insights, systems and process techniques to improve your overall logistics operations. Underpinning these changes will be strategic benchmarking and metric analyses, which the 3PL consultant will help initiate, often using their own unique data systems.
Supply chain management consultants bring fresh insights and innovation to your supply chain strategies. They also award greater visibility into every step in your supply chain projects and initiatives. Use them to review, and then improve, any of the following:
Market entry or defense strategies
Prepare for and responding to industry disruptors
Talent and asset management
Improve supply chain management and performance through key metrics identified for your organization
Business and operating model realignment
Supply chain workforce development
Save Money, Solidify Your Competitive Edge With Mitchell'sNY Logistics
Mitchell'sNY Logistics is a leading delivery, courier and shipping logistics provider in and around Manhattan. This has been our home for over 70 years. We pride ourselves on bringing that personal touch to each and every client who puts a piece of their supply chain in our hands.
Review our complete logistics delivery and facility management services, then get in touch to see how we can unlock a new competitive edge in your supply chain.