Every organization manages business logistics, because every business, regardless of industry, age, scale, or specialization, must at some point get its goods and services from point A to point B. That coordination of movements makes up the backbone of contemporary business logistics — and it's more essential to master than ever. What are the functions of logistics management and their importance? What is the importance of logistics management? We'll answer those questions and more in this article.
What Is Business Logistics?
The business logistics definition is the complete distribution control of inventory, from its procurement to its point of consumption.
In other words, it's the workflows and oversight of an item as it moves from initial production and procurement to its final usage application and consumption, typically in the hands of a consumer.
Business logistics involves multiple domains or processes. Business logistics implementation, therefore, focuses on making this multi-step, end-to-end inventory flows more efficient, cost-effective, and convenient for its parent organization.
Organizations can choose to either handle the essentials of business logistics entirely in-house or outsource process domains to a third-party business logistics partner (3PL). Depending on the nature of your inventory, the scale of your business, and the fluidity of your cash flows, a 3PL provider may be more beneficial than keeping all business logistics in-house. Continue reading for more on this 3PL option.
The Role of Business Logistics
How do logistics companies work? True business logistics makes organizations leaner and more profitable. It grants broader visibility over the movement of merchandise from construction to consumption, identifying infrastructure and operational practices that help or hinder that smooth, cost-effective distribution.
It's impossible to overstate the benefits of business logistics systems or the importance of distribution logistics. While businesses get a fresh set of strategies informing improved internal operations, they also learn which aspects of their duties they currently handle well, and which require new or updated systems.
We can break down the importance of logistics in supply chain management into a set of inbound and outbound domains, including the following.
Material sourcing: The procurement and distribution of raw materials or smaller, individual components that eventually get fabricated into a finished product, thus triggering product flows into the rest of the business logistics cycle.
Transportation: The actual distribution and movements of goods between locations, arranging both inbound and outbound transportation as well as shipping methods, timeframes, and any assistance from transportation 3PLs.
Order fulfillment: The management and delivery of customer orders from their points of purchase up to final delivery at the expressed point of consumption. Order fulfillment often introduces unique software tools into business logistics, including order management software and international order fulfillment supply chains.
Warehousing: The storage of goods across the entire supply chain spectrum. Warehousing most often includes the physical infrastructure and operations involved in ready-to-order inventory storage and merchandise returns, streamlined in a comprehensive warehouse management system.
Demand forecasting: The practice of preemptively managing the cycles of consumer supply and demand, timing inventory flows to better match seasonal shifts in consumer interest and order fulfillment rates.
Inventory management: The day-to-day oversight of physical goods and products handled across warehouses. Inventory management shares many responsibilities and domains with order fulfillment and material handling as well as demand forecasting, using inventory management systems and order processing software to perform high-level executive inventory operations.
Supply chain management: A similar term that widens the lens to focus on broader business practices and additional lateral operations that streamline product flows and generate leaner bottom lines. Supply chain management strategies often complement and take on the overall essentials of business logistics, though the two aren't synonymous.

What Is Logistics Management?
Why is logistics important for business success? There are numerous benefits to improving your organization's business logistics strategies and maximizing its product flows.
1. Enhances Visibility
Business logistics managers have the duty of reviewing distribution and transportation controls in a new, strategic lens. Distribution domains can often get pushed to the side, particularly when organizations overcompensate on the front-end design, testing and production of its goods. While these are vital processes and essential to solidifying brand market share, businesses must still face the reality that if they can't get those superiorly tested and designed products or services to customers in a timely, efficient and cost-effective way, they won't stay in business for long.
2. Reduces Overhead Costs
Savvy business logistics strategies help trim the fat on many previously overlooked carrying and storage expenses. Through domains like inventory management and demand forecasting, organizations can tailor far more strategic inbound and outbound shipping schedules, shipping methods, routes and more, which in turn allows money to be saved or allocated elsewhere. Key overhead costs reduced through business logistics efforts include:
Storage and inventory holding calculations
Purchasing expenses
Per-unit production costs
Fixed-asset expenses, such as warehouses, vehicles, etc.
Total supply chain expenditures
All the while, business logistics improve:
Cash flows
Order fulfillment rates
Delivery times
Net profits
3. Better Manages Physical Resources
Resource distribution and management is a defining variable in your organization's competitive edge. The more cost-effective you can move and store your raw materials and completed products alike, the more profit you put back in your pocket. Leveraging your organization's physical resources — from storage warehousing and equipment to other fixed-assets like delivery vehicles — ensures you're using product flow resources to the best of your abilities.
4. Improves Your Customers' Experience
Consumers cite a few essentials when it comes to ordering products that ship directly to them: ease of browsing, safe payment methods, positive product reviews and the overall quality of a good or service upon arrival. They also frequently say how crucial it is to have a swift and straightforward experience receiving their ordered goods or services — they want their orders arriving promptly and on time, plus expect clear communication from your organization the moment they place that order to the second they sign off on its package.
When your organization fails to meet these delivery expectations, customer satisfaction can hemorrhage. It's the role of business logistics to ensure that doesn't happen.
5. Bolsters a Stronger Organizational Structure
Siloed departments are a significant and widespread pain point in the warehousing industry. Often, the systematic nature of operations can leave teams performing with a "business-as-usual" mindset rather than enacting more fluid communication tactics and collaborative structures.
As a byproduct of greater product flow visibility, individual departments and teams at your organization can grow far more coordinated. Logistics and supply chain management technology, like inventory management programs or order fulfillment software, creates a single, go-to repository for all stakeholders to access logistics data and make informed decisions. Org structures sharpen as a result.
6. Gives You a Competitive Edge
Business logistics — along with its cousin, supply chain management — can genuinely turn an organization into a lean, mean, efficient delivery and distribution machine. Businesses have new insights into every touchpoint along with a product or service's flow, from fabrication to delivery, storage, tracking, transportation and, finally, end consumption.
As a result of this visibility and tailored logistics adjustments, order fulfillment rates improve, fewer lost or damaged items occur and customers receive their shipments seamlessly. It is the bedrock of logistics and supply chain management at its best, ultimately lending your business its distinct competitive edge.
What Is Logistics and Supply Chain Management?
While certain aspects of business logistics and supply chain management overlap, they're two separate functions describing differing responsibilities. So, what is the difference between logistics and supply chains?
The essentials of supply chain management encompass an organization's broader processes managing and executing the product lifecycle to maximize profitability. Supply chain management shapes a business' practices for competitive advantages across its entire interconnected departments and operations, plus accounts for outside vendor or third-party contractor management.
Business logistics, however, concentrates almost exclusively on internal product flows — specifically, domains like product transportation, distribution, warehousing and delivery. It is nearly always an internally focused activity with an onus to maximize product movements, whether those are physical or service goods.
How to Get Started With the Essentials of Business Logistics
Looking for a place to start sharpening your organization's logistics — or a guide to vet potential third-party logistics partners? Consider these domains as entry points strengthening many of the areas and functions essential to high-functioning business logistics.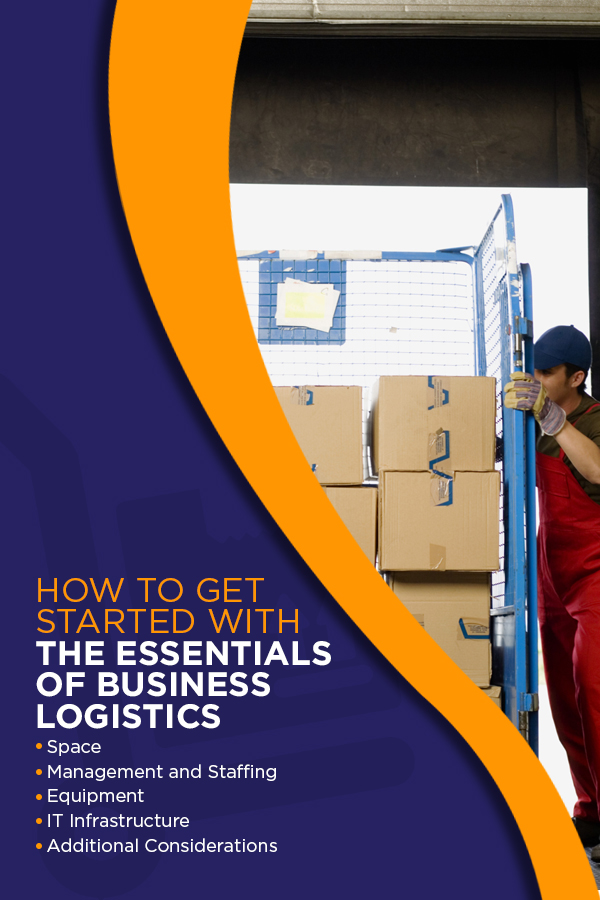 1. Space
Spatial management in business logistics ensures you're using your current storage and warehousing space to its fullest — while looking toward the future. Review the following:
Storage facility's proximity to transportation and distribution centers — airports, railroads, major highway systems, etc.
Storage facility's current size and capacities, reviewing square footage, layout, rack usage, functionality, and more
Projected facility size and capacities, accounting for inventory flows, seasonal order variability, and proper use of lateral and vertical space
Inventory organization across tactical flow racks
Warehousing traffic flows and controls, measuring for ease, efficiency, and intuitiveness
Warehouse adherence to industry storage standards and compliance mandates
2. Management and Staffing
Without skilled and proficient staff managing end-to-end business logistics domains — as well as strong employee retention and training programs — it will be much harder to reap the full benefits of your internal logistics strategies.
Consider these staffing and management personnel factors:
A qualified business logistics manager or team of managers with relevant qualifications and experience
A clear organizational chart of roles and responsibilities
High employee turnover rates, which signal cultural as well as operational issues that need addressing
Hiring and onboarding protocols
Motivational programs and incentivization tiers, including bonuses, prizes, expanded benefits and more
Professional development and growth opportunities across technical and administrative training
3. Equipment
Alongside personnel, your logistics-related equipment is the next most crucial domain in running an effective logistics pipeline. Does your organization own or have immediate access to the following business logistics-critical equipment across day-to-day transportation workflows?
Inbound storage equipment and stations, including scanning, labeling, binding, taping and itemization
Outbound equipment and stations, such as packaging, labeling and shipping stations outfitted with scales
Compliant warehousing floor equipment, from forklifts and pallet jacks to conveyor belts, cranes and hoists
Proper pallet racks and shelving types, flow rack arrangement
4. IT Infrastructure
Regardless of industry or products, your IT infrastructure acts as a foundation for business logistics. Without it, your staff won't have the tools needed for complete delivery and storage system visibility, as well as data informing which logistics processes work and which need to be tweaked.
For high-functioning logistics management, your organization will likely need:
RFID or voice-controlled inventory identification system
Inventory management system
Yard management system
Freight tracking and delivery schedule
Document management system
Internal and external file transfer methods
Order management system
Overall IT infrastructure cybersecurity, network and asset defenses
5. Additional Considerations
Other processes directly contribute to the successful outcomes of logistics operations, processes such as:
Division of duties between logistics coordinators, middle management, and warehouse and distribution personnel
How well all employees understand those roles and responsibilities in the organization structure, including chains of command and communication flows
Proactive theft and damage-remediation procedures on warehoused inventory and orders
Logistics-based benchmarking programs, compiling data and reviewing overall the overall impact of movement and material handling changes
Available budgets and resources to commit to reworking internal logistics
Benefits of Logistics Outsourcing
Given the ever-competitive nature of the manufacturing and warehousing industry, many organizations turn to third-party logistics companies to simplify their distribution and fulfillment workflows, therefore concentrating internal resources. As it turns out, 86% of Fortune 500 companies and 96% of Fortune 100 companies use 3PLs for routine aspects of supply chain management.
Integrating a 3PL into your supply chain is a strategic choice that, when done carefully, introduces many competitive advantages.

1. Simplified Operational Workflows Cut Costs
Organizations with 3PL partnerships routinely cite the benefits of a leaner, simpler set of domains they must personally execute.
Upfront, this translates into a reduced — if not eliminated — investment in on-premise logistics equipment, staff, and storage space. It also means less overhead managing off-premise and field operations, such as outbound vehicles like delivery or freight trucks.
Downstream, organizations experience cost benefits like volume discounts, freight consolidation, and more competitive shipping rates. The 3PL should also handle the vast majority of supply chain paperwork, billings, and shipping documentation. Each of these further catalyzes your organization's overhead savings, all while doing less work.
2. Specialized Expertise
A 3PL's existence functions entirely around business logistics. They may specialize in a particular logistics domain, such as distribution logistics, or provide more robust, point-of-origin to point-of-delivery services.
In either scenario, you benefit from the knowledge and expertise of qualified industry veterans. Organizations are far less likely to experience supply-chain mishaps and on-premise accidents when fewer logistics operations take place on your grounds and experts facilitate developments.
3. Increased Order Execution Volumes, At-Demand Scalability
The industry rule of thumb suggests organizations completing more than 10 to 20 orders a day should begin looking into 3PLs. That's because, at these volumes, organizations see higher ROIs by specializing their operations and concentrating on core product and servicing activities — not spreading internal resources to singularly manage the entire end-to-end supply chain. Plus, the more productive a company's volumes, the lower its overall per-unit fixed costs.
These volumes also position organizations to begin experiencing profit margins that can handle the changes to 3PL shipping expenses. Those changes are ultimately profitable, with organizations able to take the money and reinvest it into production scalability and quicker order fulfillment, all while dramatically cutting their overhead expenditures.
In short, you save when you specialize, and 3PLs help you do so.
Find Your Local Supply Chain and Logistics Partner
Mitchell'sNY Logistics is a leader in New York City-based shipping and warehousing and one of the premier 3PLs in the tri-state area.
We've called NYC our home for over 70 years, and in those seven-plus decades, have built an extensive national and international shipping and distribution network. We manage a full suite of business logistics services, including:
Warehousing and storage
Pick-and-pack order fulfillment
Warehouse management and facility consulting
Local, national, and international shipping and delivery
And more

Explore our extensive catalog of warehousing, delivery and distribution business logistics services, then contact a Michell'sNY rep to get started.