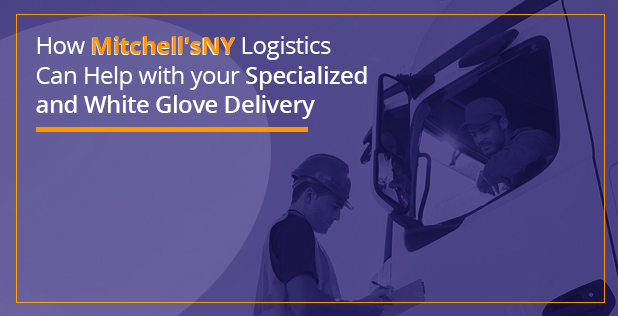 The Big Apple has a big number of event deliveries prepped, shipped and distributed every hour of every day. From the items needed for the grand opening ceremony of a department store to an international conference in a Midtown hotel to major annual events that define entire industries, such as New York City Fashion Week, the city has a constant influx of newly arrived equipment and materials.
Many deliveries are too big, too vital or too valuable to leave to chance. That's where logistics couriers come in.
Mitchell'sNY Logistics is a full-service white glove delivery company that's called New York City its home for decades. We see a successful delivery as more than getting objects from point A to point B. It's about parcel peace of mind. We have options suitable for your logistics needs all over the city.
When to Use Specialized White Glove Delivery in New York City
There are an array of situations and events where specialized white glove delivery logistics are the preferred service. From the level of attention they provide to the service perks and amenities, Mitchell'sNY Logistics can assist with any of the following tasks.
1. Trade Show Transportation and Exhibit Shipping
Companies that attend industry events like trade shows require extensive event-planning coordination and execution. White glove transportation outfits like Mitchell'sNY Logistics offer thorough trade show trucking, shipping and delivery management to companies' trade show locations. You get the items you need, when you need them, plus additional services such as:
Trade show booth storage
Trade show booth assembly
Specialty equipment storage and installation
Temperature-controlled delivery of frozen foods or catered meals
Overall trade show transport logistics
2. Major Industry Events, Public Expos Shipping and Set Up
New York City is a premier destination for regional, national and even international conferences. It's a mecca for large-scale business and public events, from New York Fashion Week and New York Comic-Con to world-renowned industry events like the International Restaurant & Foodservice Show and Javits Center expo lineup. Few cities boast the same caliber of conferences and events. Having white-glove trade show delivery companies with the logistics know-how to pull them off can lower your stress levels.
Mitchell'sNY Logistics can assist with:
Expo shipping and set up
Specialty expo equipment storage and installation
Refrigerated trucks delivery in NYC
Exhibit transfer services
3. Fragile or High-Value Item Transportation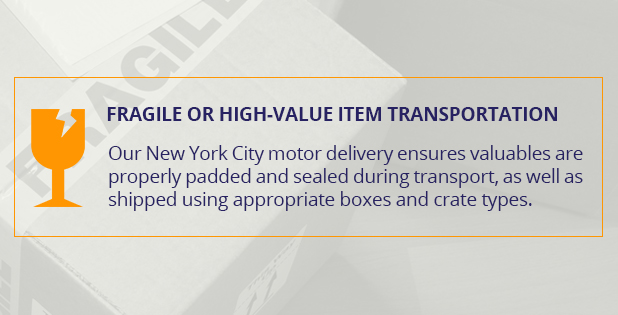 Our New York City motor delivery ensures valuables are properly padded and sealed during transport, as well as shipped using appropriate boxes and crate types. This level of shipment care is especially important for rented equipment or high-value goods and merchandise, such as:
Artwork, like sculptures and paintings
Audio and video equipment
Lighting systems
Musical instruments
Robotics and electronics
Rare artifacts or memorabilia
Glass, porcelain, pottery, crystal and fine chinaware sets
Event decor
Theater stage pieces or exhibit sets
4. Same-Day Delivery of NYC Gifts and Packages
Expedited or last-minute gifts require a delivery service that'll get the parcel to its recipient promptly and professionally. In New York City, that's no small feat. Mitchell'sNY Logistics offers time-sensitive deliveries, including late-night, early-morning and weekend couriers available year round. Our staff can also pick up gifts from nearly any NYC shop or store, then deliver the items straight to their recipient in appropriate packaging. We also offer rush shipping for Manhattan deliveries that can be completed in two hours.
5. Frozen Food Delivery and Refrigerated Food Logistics
Temperature-controlled delivery ensures perishable items are fresh or still frozen upon delivery. Mitchell'sNY Logistics is one of the premier refrigerated trucks and cold-storage hold operations in NYC, featuring a line of refrigerated vans and trucks with adjustable temperatures, up to 65 degrees Fahrenheit, to match the needs of its cargo. We can transport food as well as flowers, medical supplies and other things that need to stay cool. Our en-route and on-site refrigeration transportation have serviced:
Trade shows and expos
Industry conferences
Weddings
Reunions
Parties
Business gatherings
Local and national temperature-controlled freight forwarding
6. Bulky, Oversized or Heavy-Item Delivery
White-glove delivery logistics help arrange and execute heavy or oversized cargo deliveries, the kinds an ordinary mail or shipping service would charge exorbitant fees on. The quality of service and customer care at the heart of white-glove logistics also means step-by-step attention across the entirety of transporting oversized event-items.
Heavy or bulky equipment deliveries are common for many of New York City's signature events. Think runways and lighting fixtures for fashion shows, booth displays and exhibits for industry conferences, stages for concerts and venue entertainment, event furniture for conference meals and so much more — all of which can be sourced, shipped and set up by the Mitchell'sNY Logistics staff. We regularly outfit events with:
Unassembled furniture
Fully assembled furniture
Large lighting fixtures
Sound systems and musical equipment
Industrial or commercial machinery
Medical equipment
Stages, sets and displays
Tables and chairs
Bulk decorations
Trade show booths
7. Coast-to-Coast and New York City Trucking
While many trucking companies only have the resources to focus on regional or national shipments, Mitchell'sNY Logistics can do both.
Motor parcel delivery — including large packages 11 pounds and up — can deliver items in and around Manhattan within a two-hour delivery window. Hand-delivered message and parceling services are also available in the city, ideal for business documents, gifts or high-value packages. These run on a standard, two-hour delivery schedule but can be upgraded to a one-hour rush delivery if needed.
Likewise, Mitchell'sNY Logistics' nationwide deliveries offer fast, efficient and professional trucking for coast-to-coast shipments. National trucking is ideal for companies and groups sponsoring out-of-town industry events, retreats, conferences, specialty gatherings and more, which require bulk item transportation as well as possible add-ons like refrigerated trucks, warehousing holds and en-route or overnight destination storage. We offer a full range of industry-leading courier and delivery services as well as white-glove amenities.
8. Pre- or Post-Event Storage Services
As part of our Convenience Services package, Mitchell'sNY Logistics offers a full lineup of personalized item packaging and storage solutions. These services add the white-glove "touch" for our New York City shipping and transportation clients, filling in the details of successful item transportation for your industry or private event. Pre- and post-event storage services include:
Packing and crating for storage
Secure temporary storage within our NYC facility
Secure long-term storage within our NYC facility
Conveniently located Long Island warehouse and distribution center
Optional refrigerated storage and frozen food delivery
Transportation to and from Mitchell'sNY Logistics storage centers and warehouses
Flexible and scalable pallet storage offerings
Overall supply chain management oversight
9. Pre- or Post-Event Clean-Up Services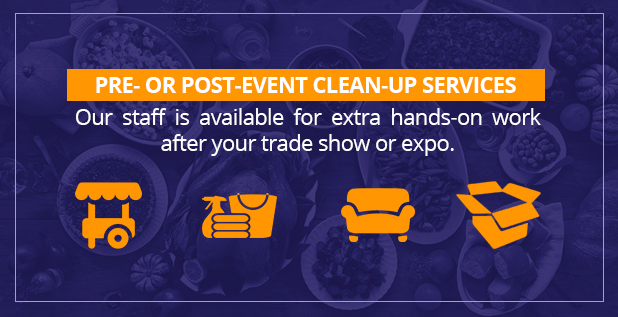 An extension of our white glove delivery and courier offerings, Mitchell'sNY Logistics can lend additional staff to help disassemble, clean up and return a venue to its original state. Our staff is available for extra hands-on work after your trade show or expo. We can repackage and transport items you intend to re-use or repurpose, delivering them to your storage facilities or housing them in our Long Island client warehouse. Our pre- and post-event clean up covers:
Trade show exhibit disassembly and transportation
Electronics, sound system and lighting fixture disassembly and transportation
Stage or set take down
Bulk decoration clean up
Furniture breakdowns and rearrangements
Van and truck fleets to service offsite transportation
Disposal services, transporting garbage and boxes from your event's premises to municipal recycling centers and scrap yards
What Are Specialized or White-Glove Delivery Logistics?
Now that you understand our wide-ranging capabilities, you may want to learn more about the benefits of using specialized delivery logistics. White glove delivery companies offer higher levels of end-to-end servicing for couriered items. While traditional transportation or trucking businesses handle only en-route services, i.e., getting things from distribution centers to homes or businesses, white glove companies do more. They combine aspects of warehousing, packaging, delivery and unloading all in-house, with their own staff, thus creating a more complete, bookended operation for handling specialty shipments to events.
Think of white glove companies in New York as a premium, more personalized delivery service. Mitchell'sNY Logistics offers a white-glove inspired service suite for the city's trade shows, conferences and more that include the following:
Order Facilitation: Mitchell'sNY Logistics can handle recurring deliveries for goods like newspapers, magazines, event beverages and food from area restaurants, with clients receiving exclusive deals and discounts.
Warehousing and Inventory: Our proprietary Long Island warehouse gives us a distribution hub for clients to manage short- and long-distance deliveries, from receiving and storage to packing and courier services.
Premium Packaging: All items transported through our team receive a white glove packaging treatment, meaning items are matched with proper padding and wrapping materials to ensure damage-free deliveries.
Van, Truck and Refrigerated Trucks Delivery: We house a fleet of delivery trucks, including Manhattan and other NYC delivery vans that can service parcels within two hours of order receipt, plus 14-foot box vans for larger shipments and 53-foot semi-trailers for bulk freight.
Event Set Up: Our staff can help unpack and set up heavy, bulky or technical items, such as trade show displays, expo center exhibits, furniture, electronic and audio systems and more — all to make your event get off the ground smoother.
Residential and Commercial Courier and Messenger Delivery: Small parcels for residential and commercial applications can be delivered via our specialty Manhattan couriers in same-day or rush same-hour deliveries.
Crating and Freight Logistics: Mitchell'sNY is one of the tri-state area's leading crating and shipping supplies providers. We regularly handle freight forwarding, bulk and high-value crating services for clients in and around Manhattan to their local and national destinations.
Supply Chain Management: We provide last-mile logistics, delivery coordination, warehousing services and more from supply chain management professionals making sure your company's deliveries are done on time, every time.
Mailroom Facility Management: Get more efficient, knowledgeable mailroom or message center operations at a fraction of the cost of traditional mailrooming — without sacrificing quality.
How Do White Glove Delivery Company Logistics Work?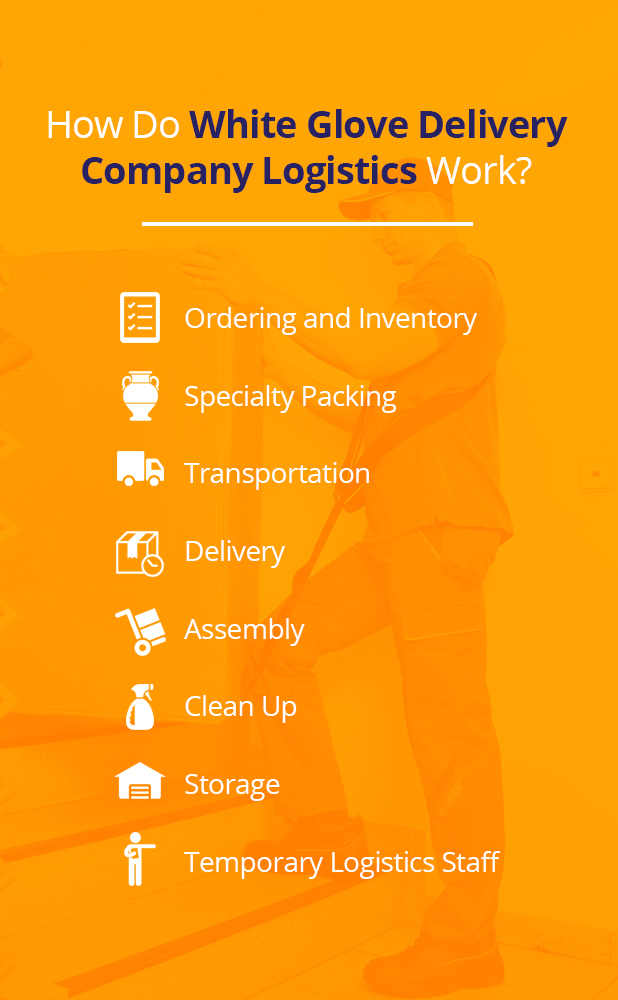 Logistics-focused white glove companies take a holistic approach to their delivery operations and customer service. With elements of warehousing, crating, transportation, delivery and order procurement, they go beyond the traditional siloed activities of most of today's shipping companies to be a "one-stop shop" for all things delivery.
Our process at Mitchell'sNY Logistics follows this approach. Clients of our white glove delivery logistics can participate in a range of end-to-end parcel services we provide.
1. Ordering and Inventory
Mitchell'sNY has decades of experience providing weekly and daily deliveries of our core order inventory, including local and international newspapers, magazines, restaurant orders, beverages, supplies and more, to commercial, residential and hospital clients. Client orders can be placed online or over the phone, then managed in personalized digital accounts.
2. Specialty Packing
White-glove packaging means every item is prepped, packed and transported using proper materials and appropriate vessels. When parcels arrive at their destination, they are as pristine as when they left the packaging center — no dents, scratches, scuffs, breaks or shards.
Mitchell'sNY Logistics can also provide packing supplies, from boxes and bubble wrap to moving pallets, tape, dollies and more. Our movers will additionally assist in the packing and unpacking of boxes or crates in their appropriate rooms or venue areas, if necessary.
3. Transportation
Our diverse fleet of courier vans, delivery trucks and semis allows us to perform custom white-glove caliber transportation within Manhattan and the tri-state area. This includes specialty transportation services such as temperature-controlled delivery, refrigerated trucks and more.
4. Delivery
Besides our reoccurring publications, food and beverage delivery services, Mitchell'sNY Logistics supports extensive on-demand trucking and courier services available 24 hours a day, seven days a week, including holidays. We can pick up items or orders at nearly any Manhattan store and delivery them directly to your business or trade show event. Our truck tracking line allows you to call to see where your goods are at any point in the delivery, shipment or move, lending you further peace of mind.
5. Assembly
Mitchell'sNY Logistics White Glove Delivery suite means large or bulky items, such as furniture or trade show exhibits, will be transported safely inside your venue — not left on the stoop. Our staff will proceed to then unpack and assemble heavy or laborious items for you. White-glove transportation is particularly great for trade show shipping and delivery in New York City as well as other events involving specialty exhibits, video, audio or lighting equipment.
6. Clean Up
Mitchell'sNY Logistics staff is also available for trade show disassembly, expo and event clean up. We'll arrive on-site to pick up garbage, containers and bulky items no longer needed, then dispose of them in accordance with municipal laws at recycling centers and city scrap yards.
7. Storage
Because of our supply chain management and in-house warehousing, our white-glove logistics services can also store items for business or event planners. Both long- and short-term storage is available, including overnight storage before and after industry events.
8. Temporary Logistics Staff
Additional Mitchell'sNY staff are available for temporary event logistics, from moving furniture to assembling trade show light systems to installing entire event exhibits.
Contact Mitchell'sNY Logistics for Your Specialty Event and Trade Show Delivery Needs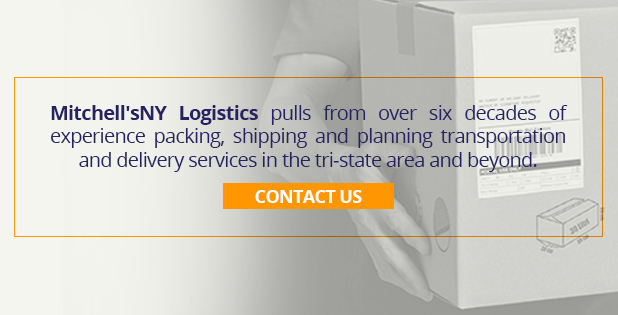 New York City hosts private and public events every day. From major industry conferences and trade shows to private weddings and parties, these events keep the city moving. You need a transportation logistics company that can keep up.
Mitchell'sNY Logistics pulls from over six decades of experience packing, shipping and planning transportation and delivery services in the tri-state area and beyond. We're proud of our end-to-end white glove en-route services and love the city we call home — and we want to bring that commitment to all your event logistics needs. We can deliver anything, and we've heard it all. We want to assist you with whatever you need.
Chat with one of our representatives today to hear more about our warehousing, storage, event set up, clean up and equipment transportation service suites, as well as supply chain consultations and management.